HBCU Presidents at a New Crossroad
Patricia A. Hardaway, Special to the Informer from NNPA | 2/5/2014, 3 p.m.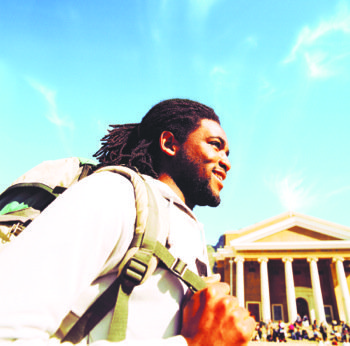 "If you look at the landscape now for all of us, it's a tough landscape," said Hampton University president, Dr. William R. Harvey. "There are a number of factors impacting all HBCUs, including the federal government debacle on the Parent Plus Loan situation, [and] support is down for Title III, which strengthens HBCUs. All of the support for HBCUs across the board is down. In addition, there are some institutions that don't have enough students there.
"It's a tough climate right now."
New demands for HBCU presidents
The pride and traditions of HBCUs is a source of its strength and legacy, but navigating the gauntlet of closely held traditions while fulfilling the requirement to bring new life and resources to the university can be a daunting task for presidents.
Some describe it as a juggling act of trying to please too many masters, including boards of trustees who, at some institutions, have significant influence and demand compliance. Some presidents have operated in-dependently of boards until problems occur.
At one time, HBCU presidents served for lengthy tenures and not only were held in high regard but also wielded more power and influence. Today, with HBCUs closing and talks of mergers, disproportionate budget cuts, anemic enrollment figures, a financial aid crisis, inequitable federal research appropriations and the mere fact that gifted African-American students have many university options the expectations of the HBCU president are changing.
The new requirement for today's HBCU president includes a personality and gift for raising money for the university while maintaining the traditional connection to faculty and students. A president is required to keep his/her finger on the pulse of the university's life-line of recruitment, retention and graduation rates, as well as changing technology, including online education.
At Hampton University, Harvey has become among the rare breed of presidents who have successfully navigated a long-term presidency due in part to a symbiotic relationship with his board.
"The [university] president needs to understand that the board represents his or her bosses. You may be the CEO, but the board is your boss," Harvey said. "The board needs to understand that their job is to make policy, not to implement the policy. Sometimes boards want to get involved in the implementation and that's wrong.
"When people forget their roles, that's when problems occur," Harvey said.
Harvey attributes his success to mentors like Dr. Norman Francis at Xavier University in New Orleans and others who helped pave the way for him, and having entrepreneurial parents.
"When I came to Hampton, we couldn't balance the bud-get," said Harvey. "I traveled three and a half days a week for five years to raise money. Thirty-six years ago, we were not in the position we are today. We did something a lot of institutions weren't doing, whether HBCU or not – we ran the university like a business. You bring in revenue on one side and manage expenses on the other."
Harvey appealed to board members to let him institute entrepreneurial approaches to fundraising.