Insufficient Sleep a Public Health Epidemic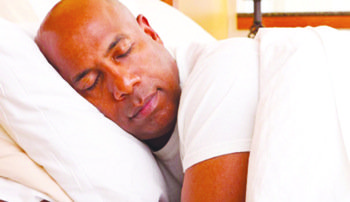 Monte Wright wakes up at 3 a.m. each weekday.
By 8:15 p.m., Wright, a Northeast resident, normally heads home from his third job, to say goodnight to his young son and wife, eat dinner and catch a little shut eye before starting the process all over again.
"I work a full-time job and two part-time jobs," said Wright, 39.
"I haul garbage until about noon, than I high-tail it over to my other jobs where I deliver food and do some landscaping. Sleep? I get about five hours if things go right."
Wright counts among the many that either fight sleep or are otherwise unable to get a suitable amount of rest.
However, a number of recent medical studies show the troubling consequences that come along with a lack of sleep, such as diabetes, obesity and irritability.
Recently, several reports have concluded that African Americans appear to have even more to worry about.
"With increasing numbers of blacks entering professional and management roles in numerous industries, it is important to investigate and address the social factors contributing to the short sleep disparities in blacks compared with whites in general, and particularly in professional settings," said Chandra Jackson, a Harvard School of Public Health researcher.
Jackson and her colleagues analyzed data on more than 136,000 U.S. adults who answered the National Health Interview Survey (NHIS) conducted by the U.S. Census Bureau in Washington, Md.
Officials from the NHIS asked participants to report their average sleep time.
Of the sample used in the study, 30 percent were "short sleepers," meaning they slept less than the optimal 7 hours a day, and 31 percent were optimal sleepers, and 39 percent of the subjects were "long sleepers," snoozing for more than 7 hours every night.
Researchers discovered that 37 percent of black respondents were short sleepers, as compared to 28 percent of white participants. The disparity proved higher when people worked at professional or managerial positions as 42 percent of African-American professionals reported that they experienced short sleep, compared to 26 percent of whites.
"Compared with whites, blacks are also more likely to report general job stress, to experience objective and perceived discrimination, to work in positions with low control and high demand that involve low decision-making power, to work multiple low-wage jobs, and to live in poverty despite being employed," Jackson said.
Also, a recent study performed at the University of Chicago noted that men who lack quality sleep could find themselves with more flab on their stomachs and on their faces.
Another study released on Jan. 11, by Medical Daily, which reports on news in the health industry, revealed that men who go even a single night without sleep may be at greater risk for brain damage.
And, Medical News Today noted that a lack of sleep also leaves men a lot hungrier than normal.
Perhaps even more disconcerting for some, a separate study conducted in Denmark last year, found that men who slept poorly had lower sperm counts and fewer sperm that had formed correctly, compared with men who slept better.