LETTERS TO THE EDITOR: A Stellar Performance!
2/5/2014, 3 p.m.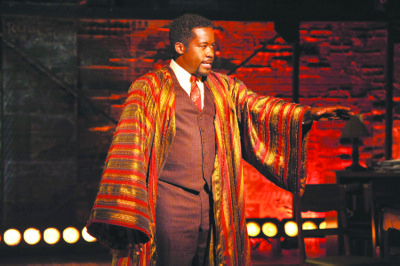 Barrington Salmon's article about the one-man play, "The Tallest Tree in the Forest," at the Arena Stage, in the Jan. 30, 2014, edition of The Informer reinforced my critical analysis of the play.
I have been attending live stage performances for 20 years or more, and after seeing this one-man performance I have to say it was the most artistically creative and historically informative performance I have ever seen. Daniel Beaty, who played Paul Robeson and all of the other characters, was downright amazing. His ability to smoothly transition between characters and their dialects kept me captivated throughout the entire play. The play was magnificent. To put it simply, Mr. Beaty was brilliant.
If "The Tallest Tree in the Forest" hasn't been on Broadway, it needs to be, and once there, Mr. Beaty and the play should win every "Tony" in the house.
Oliver Watson
Washington, D.C.
A Fitting Tribute
The pictorial tribute to the late Mrs. Virginia Williams, the mother of our former Mayor Anthony Williams, on Mickey Thompson's "Social Sightings" page was very nice. Every week I glance at the page in The Informer to see the interesting people spotlighted, but this week it really touched me.
Having recently lost my mother, I can imagine the pride the former mayor must feel seeing such a tribute and realizing the unwavering support for him by his mother during his political journey. A mother's love can never be replaced, but the memory of that love can strengthen you for the rest of your life.
Thank you, Mickey Thompson and The Informer for reminding us all that a real love will always live on in our hearts.
Betty Cambridge
Washington, D.C.
Rhodes Scholar Joins Prestigious Alumni
I'm happy to have read the article in the Jan. 30-Feb. 5 issue about Rhodes Scholar Joshua Aiken, who as one of 32 such scholarship recipients for 2013, will be leaving next fall for studies abroad at Oxford University.
I understand that the prestigious Rhodes Scholar program began in 1903 and has since awarded more than 7,500 scholarships. However, in joining the list of less than two dozen African-American Rhodes Scholars like John Wideman and Robyn Hadley, Aiken is the 27th scholar from Washington University, where he is in his senior year.
Aiken is truly an inspiration and serves as yet another shining example of a young African-American male raised by supportive parents, living his life on the right side of the law and being a role model for his peers.

I'm so proud of this young man who has also impressed me with his interest and passion for domestic civil liberties and international civil rights – both of which led to him becoming a Fullbright Commission Summer Institute participant this year and a U.S. House of Representatives legislative intern in 2012.
Keep up all the good work, Mr. Aiken. In being selected as a Rhodes Scholar, you have certainly served your family and the entire African-American community well.
Grace Carter
Washington, D.C.