Q&A: Maryland Abandons Zero Tolerance Approach to School Discipline
Khalil Abdullah, New America Media | 2/5/2014, 9:30 p.m.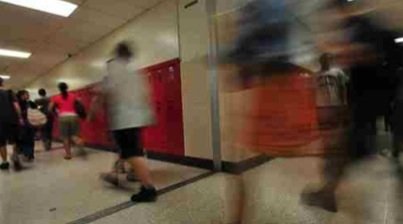 Rockville High School in Montgomery County has a program for older students if suspension is warranted. They offer the parents the choice of suspension or having the student coming in to do work at the school, like cleaning, on a Saturday morning for four hours.
Actually talking to the students can be effective as well. We know in one county, a Latina cafeteria worker felt she was being harassed by three African-American girls. She finally complained and, as a result, there was a meeting of the girls, the worker, and the principal, who was African American and familiar enough with history to provide context to the mediation, citing past harassment of African-American cafeteria workers during the Civil Rights era.
Helping to clean the cafeteria had already been set as part of the girls' punishment, but they decided to do it for the entire year. That was their decision, because of how badly they felt and what they had learned. You don't get that kind of learning when a kid is simply written up and suspended without talking to them. There's no sense of what's going on with the student. They just lose education time and often return angry. The underlying cause of the behavior goes unaddressed. We cite this as but one instance where we've seen restorative justice used as an effective alternative, but we've seen a highly motivated Anne Arundel County initiative reduce the expulsion rate of African-American students by 37 percent.
Why are suspension rates also high for disabled students?
Sometimes it's hard to tell whether a student is acting out due to his or her disability, depending on whether it's physical or developmental. Let's say a child has autism. One of the approaches in dealing with autistic children is for them to have predictable, regimented schedules – and to make sure they know in advance before a scheduling change is made. An abrupt change may trigger negative behavior from an uninformed child, and, as a result, a teacher's recommendation for suspension. Yet, had the teacher looked at or been aware of that student's Individualized Educational Plan (IEP), the need to inform the child before a schedule change would be documented.
In this situation, there are ways of keeping that student in school, using methods or consequences other than suspension, given the IEP instructions on how to manage the child's autism. That's just one example of what could happen, but what the Maryland Disability Law Center found was that many schools are not following the IEP. That's a problem.
In some of these cases, is there an underlying dynamic between students of one race confronting teachers of another?
Look, teaching is a tough job and no teacher welcomes a challenge to his or her authority in the classroom. But sometimes the conflict is just between one student and one particular teacher. One strategy is to just pull that student out of that particular teacher's class for a few days and provide a cooling off period rather than suspending a kid from all classes, and, then, more importantly, to try to get to the root of the problem.
For sure there is a dearth of teachers of color in the state, but it's too simplistic to say racial differences between students and teachers are the driving factor in the rate of suspensions and expulsions. The data we now have doesn't support that conclusion and the issue is complex. But what is clear, however, is that suspensions and expulsions are a dilemma for African-American students and the state's 24 school systems. What is ultimately needed is a courageous statewide conversation about race.