Minorities Provide Mixed Reviews on Obama Address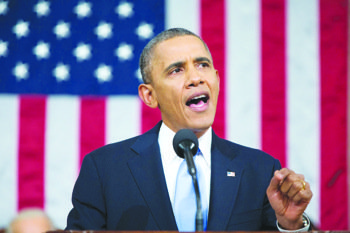 Barack Obama's State of the Union Address last month probably provided more questions than answers in the black community, where many said they remain perplexed as to why the nation's first African-American president hasn't done much to help minorities.
Even in the president's hometown, Chicago, activists there reportedly are calling on the two-term Commander-in-Chief to resign because they said he's done nothing for blacks since he took office in 2009.
"Obama's speech was the same old, same old. A bunch of talk and rhetoric to give favor to a dying economy in America," said J.R. Fleming, a member of Chicago's anti-eviction campaign, which seeks to put an end to unlawful and other evictions of poor people.
"The reason why our economy is dying is the president's approach is always to place blame. It's not the one percent problem; it's not the 99 percent problem. It's an American problem and that problem is patronage, nepotism and cronyism," Fleming said.
Obama has been more hurtful to blacks than helpful, said another Chicago-based activist, Joe Watkins. "But, those of us at the bottom of the ladder don't accept that," Watkins said.
Those sentiments are echoed in the Greater Washington, D.C., area.

Tyrus Ludlow, a mechanical engineer who lives with his wife and two children in Prince Georges County, Md., said he voted for Obama with the expectation that a black president certainly would help to increase chances of a better life for blacks.
"I wasn't expecting miracles," said Ludlow, 36. "But, let's face it, Obama talks about the middle class and he talks about what the rich can do. When does he ever say anything about what he's doing for people like me? People who go to work every day, work hard, takes care of his family but still struggle mightily to make ends meet in part because I'm black and don't have the opportunities some others may have."
Aaron Hendley, a building maintenance inspector who lives in Northeast, said he listened intently to the State of the Union simply to see if Obama would address the disparities facing the nation's black population.
"Look, the man is in his second term. There's nothing people can do to him, so I would have to believe that if he wanted to do something to help black folks, now would be the time and now would be the moment for him to express that," said Hendley, 41.
Felix Contreras, a Springfield, Va., resident, who works as a termite and pest exterminator, said he believes Obama has done all he can to help blacks and minorities, but said the president doesn't have the power to simply change things.
"Could he do more? I think so," said Contreras, 44, who's originally from Mexico City. "But, whenever he tries to help, Congress, the Senate and everyone else gets in the way."
In his response to the State of the Union Address, the Rev. Jesse Jackson said the top priority of the president and Congress must be jobs, public and/or private, getting the economy back on track, in a balanced fashion, which would create stronger consumer demand.