Minorities Provide Mixed Reviews on Obama Address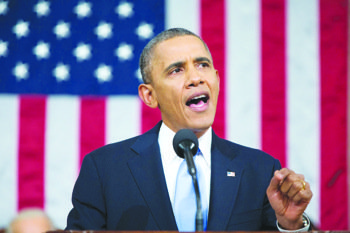 "While 8.2 million jobs have been created under his administration, unemployment in the U.S. remains at unacceptable levels, especially in African American and other minority communities," said Jackson, 72.
"The president must continue to urge Congress to pass an extension of unemployment insurance for 1.5 million Americans, a number that's growing daily, and food stamps for those in need through no fault of their own."
While many blue collar minority workers were not too enthused with Obama's address, top officials at several of the nation's black political and social organizations applauded the president.
"He gave an extraordinary speech, full of hope and he described a very optimistic vision of America," said Rep. John Lewis (D-Ga.), a longtime member of the Congressional Black Caucus. "He demonstrated that he's not affected by the challenges of his work, but he showed the American people his continuing willingness to lead," said Lewis, 84.
Obama has embraced the social justice movement that's moving across the United States and he's boldly called on all Americans to do the same, said Lorraine C. Miller, interim president of the National Association for the Advancement of Colored People (NAACP) in Northwest.
"The NAACP will heed his call and continue to be leaders in the effort to end the inequalities that have plagued our nation for centuries," said Miller, 60.
Also, Nick Chiles, a Pulitzer Prize-winning journalist and New York Times bestselling author, said Obama's proposals made during the State of the Union Address will resonate with African Americans and boost black communities across the country.
Chiles cited the president's target areas which he said will greatly enhance and expand opportunities for minorities, including college opportunities, training programs, unemployment insurance, the minimum wage, health care and the infrastructure.
"The president wants to use the money saved from reforming the tax code to create jobs rebuilding our roads, upgrading our ports and unclogging our commutes," Chiles said. "He called on Congress to protect more than 3 million jobs by passing transportation and waterways bills by this summer. He will use executive orders to slash bureaucracy and streamline the permitting process for key projects to get more construction workers on the job as fast as possible. For the black community, with the highest unemployment rates in the country, that's welcome news."