Play Brings the Three Ms to Life
Malcolm, Martin & Medgar Remembered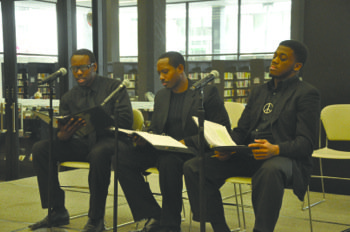 During a question and answer session of a dramatic reading marking the beginning of Black History Month, one of the more than 60 people in the audience asked the group on stage who is Medgar Evers.
"I've never heard of (him)," said 45-year-old union carpenter Rodney Thomas in the Great Hall of the Martin Luther King, Jr. Library in Northwest. "And what can I do to get this information in front of my young people?"
Author and Journalist A. Peter Bailey gave Thomas a quick synopsis of the civil rights icon's importance. Then he and MLK Librarian Kelly Elaine Navies offered suggestions on ways Thomas could gather more information about Evers – assassinated by white supremacist Byron de la Beckwith in 1963 – or anything or anyone else in which he was interested.
Evers, a World War II veteran, served as field secretary for the National Association for the Advancement of Colored People in Mississippi during the height of the Civil Rights movement. He gained the anger of whites there for among other things, organizing voter-registration projects, and staging economic boycotts and demonstrations against companies that practiced discrimination. On the night of June 12, 1963, Evers died after a shotgun blast to the back in the driveway of his home in Jackson, Miss.
"When you see people doing things that are productive, go ask questions," said Bailey to Thomas. "People do not know … it's disgraceful that people don't have this type of information ..."
"Malcolm, Martin and Medgar," a one-act play written by Bailey, read by three male actors and narrated by Malcolm X's youngest daughter Malaak Shabazz, imagined what these political and civil rights icons would say about individuals, current events and conditions facing blacks in this country now.
Bailey, 70, said he consider Malcolm X his mentor and friend "with a small 'f'," meaning his was not part of Malcolm's inner circle. Bailey was a founding member of the Organization of Afro-American Unity (OAAU), created by Malcolm after he left the Nation of Islam; worked as editor of the OAAU's newsletter; and was in the Audubon Ballroom on Feb. 21, 1965 when Malcolm X was assassinated. Bailey served as a pall-bearer at his funeral.
"I first heard Brother Malcolm speak in 1962. I was living in Harlem then. Everywhere he spoke, I went," Bailey recalled. "He was very courteous. He was a warm person who laughed and joked in small settings. He was very respectful of people. He listened to people although most of us, like myself, were ordinary folk."
"When you heard him speak, you never went back to where you were before. He made you have to go and buttress your position if you disagreed with him. You had to make sure your position was cool."
Shabazz, 47, said that although her father died when she and her twin sister were in the womb, her mother helped keep her father's memory alive.
"(And) we had the best teachers, close friends who knew him, "(such as) Peter and (civil rights activist and attorney) Percy Sutton," the New York native said. "Also, we had access to his private papers. I'm very proud to be his daughter."