Play Brings the Three Ms to Life
Malcolm, Martin & Medgar Remembered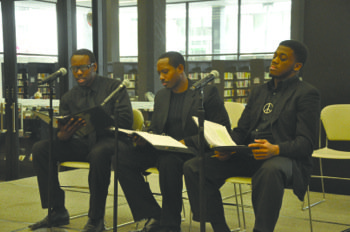 "Mom was a great teacher and role model. She raised six daughters in a climate of hate. We shook off the negatives. My father married a strong woman, a woman who carried on the baton."
During the question and answer session, some audience members asked about the role of women in the Civil Rights movement and also asked about the relationship between the wives, Dr. Betty Shabazz, Myrlie Evers-Williams and Coretta Scott King.
After the reading, Malaak Shabazz said the women were very close, leaned on, consoled and supported each other and were in the process of planning a world tour when her mother died. In fact, she said, she called Evers-Williams and Scott King "auntie," and said their children were her "sandbox buddies."
"These women did whatever they could to protect their kids. All three women persevered."
Shabazz strongly endorsed the play and said she was pleased to be involved in the reading.
Bailey said he wrote "The Three Ms" over the course of 10 years and so far has had readings but no stagings in New York, D.C., North Carolina and Virginia. The play is motivated by his great admiration for the men who could have exercised options other than sacrificing their lives but didn't, he said. A recurring theme in the reading and subsequent discussion after, centered on how deeply their sacrifices affected their children.
He said he is pleased that Shabazz took part in the reading in a role reserved for a woman.
"Malaak added what I consider is the most important point," Bailey explained. "These men were fathers who left behind 13 babies and these children have paid a price. She wished to be a part of this. I didn't approach her."
"I want people to think of these brothers and human beings and to not see them as otherworldly. They made a tremendous sacrifice. We have not proven worthy of their sacrifices. We have not proven worthy. Right now, we don't have the will or we'd be much further along as a people and individuals. We lack the will, not the resources. What we lack is the will ..."