Style is Key for Buick's Stately LaCrosse Presentation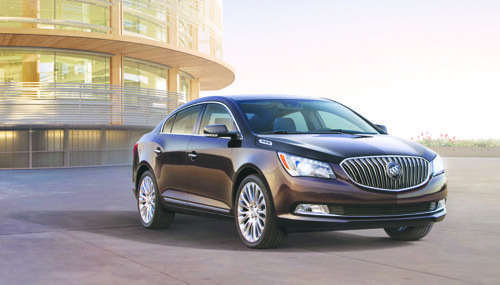 You've seen the commercials of a jovial Shaquille O'Neal effortlessly slithering into a Buick LaCrosse for a drive around town. Never mind that the NBA great's seven feet one inch frame is not just a lot of body to throw into a passenger car, but it also beats imagination to figure out how Mr. O'Neal's size-23 shoes navigate the foot pedals.
Given that the population of seven-footers is infinitesimal – demographers estimate that there are fewer than 70 men in the United States who stand seven feet or taller – I was curious to see how "normal people," in this case an average guy like myself, plus my 6'3" son, his slightly shorter brother and their friend who is 6'5", would fare on an extended road trip in the LaCrosse, GM's largest Buick. After driving around Virginia and Maryland for the fair part of a weekend, I am pleased to report that my passengers, all college students who'd rather cruise around in say a Camaro or Mustang, gave the refreshed 2014 LaCrosse rave reviews.
Buick, an American staple over generations may not be the first name that comes to mind when one thinks of luxury automobiles; but buyers value the qualities that have sustained the brand over generations – comfortable-riding, ably powered engines and generally well-balanced road manners that don't do much to offend driver sensibilities. The 2014 LaCrosse may lack the brashness of the competing Lexus ES, Acura TL or even a pack of Volvos and Lincolns, but it still manages to shoot to the top of the class when you consider all the amenities and convenience it provides.
We gave thumbs up to the revised waterfall grille and LED eyebrows that give the LaCrosse's face a slightly more aggressive demeanor. The reworked rear fascia that's dressed with a full-width chrome accent provides additional oomph; so do the wraparound LED taillamps and a new trunklid with an integrated spoiler. Did I also mention the addition of active grille shutters that close at highway speeds to smooth aerodynamic flow and aid fuel efficiency?
Inside, the fashionable ice-blue ambient lighting, warm wood tones and smoked-chrome accents give the car a polish that's fitting of more upscale models. The revised instrument panel, center console and the AC controls, which are mounted at just the right place, give the driver and front passenger very easy access. And you don't have to stare at the dash to know how fast your ride is running; the speedometer is projected in unobtrusive soft white digits on the windshield.
The 2014 LaCrosse is offered in front-wheel-drive and all-wheel-drive models and offers two powertrains: a 2.4L engine with eAssist light electrification technology (FWD only) or a 3.6L direct-injected V-6 (FWD and AWD). Each is paired with a six-speed automatic transmission. Our AWD test vehicle was equipped with the 3.6L engine, which was quick enough to propel the large sedan to speed ticket territory without having to floor the throttle all the way.
The LaCrosse is loaded with safety features that make the competition seem stingy. First, there's StabiliTrak electronic stability control, all-speed traction control, and four-wheel disc brakes with Intelligent Brake Assist on the four-channel antilock brake system.
Then there's the eight standard air bags complement, supported by a generous crash-avoidance bevy of technologies which include Side Blind Zone Alert, Lane Change Alert, Lane-Departure Warning Alert, Forward-Collision Alert, Rear Cross-Traffic Alert, and … are you ready for this? A safety that buzzes your seat to alert you to possible collisions and other infractions you might commit while driving.
As with many GM cars, the test model was equipped with OnStar for an additional layer of safety and security. The OnStar service also came with IntelliLink mobile apps, which provide vehicle information and OnStar services via the customer's compatible smartphone. For gas mileage expect around 25 miles per gallon in the city and 36 on the highway for the hybrid, versus 18/28 for the V6. The base model retails for $32,555. Our well-equipped tester had a sticker just under $40,000.