COMMENTARY: Martin vs. Incognito — The Bullying Incident That Won't Go Away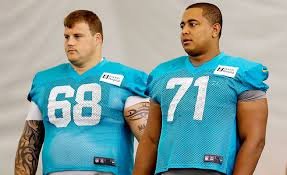 Let me get this straight. Jonathan Martin is 24 years old, stands 6'5" and weighs 312 pounds. He was the starting left tackle for the Miami Dolphins. Until after the seventh game of the regular season when he decided to leave the team because he felt he was being bullied.
What?! Bullied?! Who could possibly bully an NFL lineman? Surely a mistake has been made. This couldn't have happened. There's no bullying in the NFL.
Martin says he was bullied by teammate(!) and fellow offensive lineman Richie Incognito, who he claims constantly left him a series of threatening and racially charged voice mails and text messages. Martin's allegations have made Incognito the most infamous bully in the country and nearly branded him as the poster child for bullying. To further exacerbate the situation, Martin claimed that the Dolphins coaches knew he was having issues with Incognito.
In his defense, Incognito has owned his inappropriate comments and says they were made in jest. He claims that Martin sent him text messages that threatened to send someone to Incognito's home with a "tranquilizer gun and sandpaper condoms" to rape him. According to Mark Schamel, Incognito's lawyer, Martin threatened to kill Incognito's entire family.
Gentlemen, please! Stop it! You are both NFL players. Whether you like it or not, there are kids out there who view you guys as role models. So enough of this scathing, insulting, hideous banter.
Of course, there's no way the NFL is going to have bullying associated with their brand, so the league appointed independent investigator Ted Wells — arguably today's Johnnie Cochran — to gett to the bottom of this. Wells' law firm announced earlier this week that the findings will not be made public for a least a week or so. (And none too soon for Incognito, whose frustration with the slow proceedings boiled over this week in a series of tweets in which he called out Wells and the law firm for dragging their feet.)
While this dispute is being hashed out, both Martin and Incognito have launched their own independent job searches. Chances are very slim that either player will be wearing a Miami uniform next season. Dolphins' owner Steve Ross has made it clear that he doesn't expect either to be a part of his organization again. Even though the Dolphins own Martin's rights, the 2012 second-round choice will probably be released or traded. On the other hand, Incognito is scheduled to become an unrestricted free agent, after starting every game he played for the Dolphins since 2010 and being selected to the 2012 Pro Bowl.
Having heard both sides of the story, no one seems to know whom to believe. What everyone does agree on is that this type of behavior is offensive, unnecessary and has no place in the NFL or any other profession, for that matter. This incident involves two quality players whose careers have been sidetracked by a series of nasty back-and-forth communication. It would be in everyone's best interest to clean up this behavior and focus on football, where they both have excelled.