Mills Family Demands Accountability, Changes to D.C. Law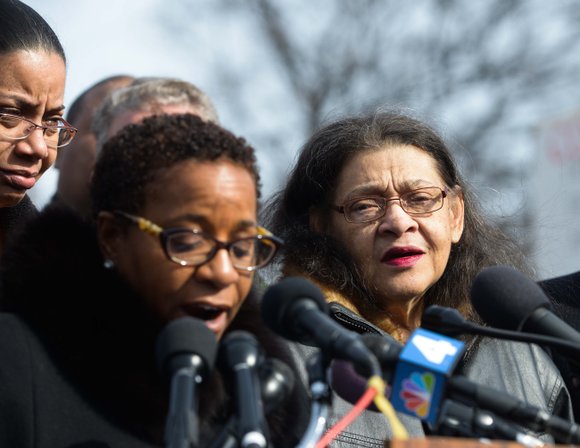 The family of Medric Cecil Mills Jr. and their attorneys are calling for the firing of firefighters and D.C. Fire and Emergency Management personnel who refused to help when Mills suffered a medical emergency and subsequently died.
Members of the Mills family and their attorneys held a press conference on the morning of Feb. 6 in the parking lot where Mills collapsed. The family has retained the Cochran law firm to represent them and their lawyer Karen Evans stipulated that the family supports swift changes to a law that protects the city agencies from accountability in such cases.
Evans and her clients castigated city officials and fire department employees for mishandling the situation and causing a devoted husband, father and grandfather to die needlessly.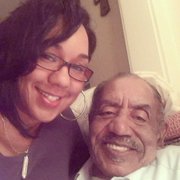 "It's especially tragic that someone who gave so much to the city died this way," Evans said before a bank of microphones in the same location where Mills died. "We want to expose to the world what happened in the nation's capital. It could happen to anyone of us, anytime. This is a call to arms. Change must come. We don't want another taskforce, another investigation, another review."
On Jan. 25, the 77-year-old Mills collapsed in the parking lot of a shopping center at 1301 Rhode Island Avenue NE. The shopping sits directly across the street from the Engine 26 Fire Station. Mills, who was accompanied by his daughter, Marie, went into cardiac arrest and required immediate medical attention.
A number of bystanders ran across the street and asked emergency medical personnel and firefighters to come and help Mills but they refused to cross the street and told the frantic people to call 911.
"We are deeply saddened and devastated by the sudden death of my father, " said his son, Medric Cecil Mills III. "It is extremely painful to think that my dad could still be with us if he was given the proper care by firefighters when he suffered this medical emergency. … Bystanders were screaming for help to the firefighters, who are provided training to respond to medical emergencies.
"But when a medical emergency happened right on their doorstep, they ignored us," he said.
Mayor Vincent C. Gray, who met with Mills' daughter Marie, expressed outrage and vowed that people would be held accountable, according to several published reports
D.C. Deputy Mayor Paul Quander offered his condolences and echoed Gray.
"Like the Mills family, I, too, have been deeply shocked, saddened and disappointed by what happened to Mr. Mills. Both Mayor Gray and [D.C. Fire] Chief [Kenneth] Ellerbe spoke with family members soon after their loss and expressed their sadness and disappointment," he said in a statement. "The mayor committed to a full and complete investigation. That investigation is ongoing and proceeding accordingly. Employees from multiple DC agencies have been interviewed, as well as citizens who were present.
"As much as everyone would like to see disciplinary action quickly taken against any city employee whose conduct was less than what we demand from our public safety workers, an impartial investigation must be completed before we can fully understand the facts of what happened and properly hold accountable those who deserve it," he said. "We also must identify any gaps in our service delivery and/or policies so that we can make the necessary improvements."
Evans, a litigator in the Cochran firm's D.C. office, dismissed such proclamations.
"The mayor has expressed outrage but we don't want another review," she said over the steady rumble of passing vehicles. "There must be accountability to residents and those who play in D.C."
Evans said Mills' death is just the latest in what she describes as a "longstanding negligent pattern" of similar cases that have occurred since 2007.
And, she added, what's called the public duty doctrine protects city agencies from being called to account for tragedies such as that which happened to Mills.
"The question is whether the law strikes the appropriate balance," Evans said. "…The District is asserting the immunity defense … the law in D.C. makes it extremely difficult to hold public servants accountable. It's a nice name and sounds like it helps, but it doesn't.
"The city government holds no one specifically responsible. There's no recourse. It's outdated and unjust. We are calling on the mayor and the council to change this law," she said.
Evans said the family was preparing for Mills' funeral adding that after the interment, the family would decide how to proceed.