Protesters Converge on N.C. for 'Moral March'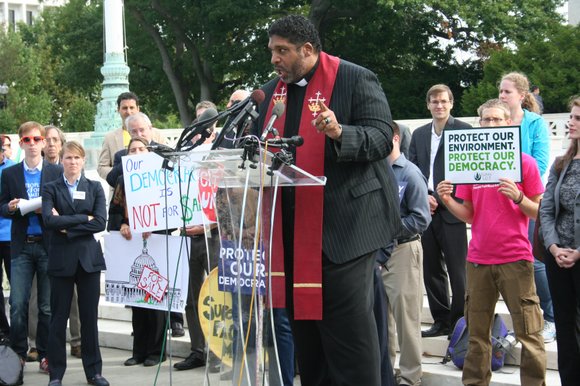 Several busloads of people from around the nation representing nearly 200 organizations converged on North Carolina this weekend to participate in a "Moral March on Raleigh."
The protest is an outgrowth of weekly "Moral Monday" marches and pickets in front of the state house initiated last year by the Rev. Dr. William J. Barber II, president of NAACP's North Carolina chapter.
The "Moral Mondays" were designed to call national attention to efforts by the GOP-dominated general assembly and the governor to roll back civil rights gains in the state and end various kinds of assistance to North Carolina's poor. Gov. Pat McCrory has signed bills into law that cut unemployment benefits; instituted a new voter ID law that poses hardships on students, seniors and poor people trying to vote in person; and ended the earned income tax credit. McCrory also refused to expand Medicaid in the state under the federal Affordable Care Act.
Barber was in the District in October for a demonstration in front of the U.S. Supreme Court concerning a campaign finance reform case. He told The Washington Informer that he was 50 years old, born the week of the 1963 March on Washington.
"I never thought I would be fighting the same [civil rights] fights my father and grandfather fought," he said.
Like the civil rights marches in the South of more than 50 years ago, the Moral March on Raleigh began Friday night with a church-based mass meeting and worship service, both held in the Abundant Life Christian Center in Raleigh.
"We will join together as brothers and sisters to seek a way to repair the damage, to leave behind despair and move into a new sense of hope and commitment to our moral and constitutional values," Barber said. "We march in Raleigh on Saturday not out of hatred, but out of love. Wherever people come from, no matter their race, their faith, their sexual orientation or their class, the shared love of justice is a powerful thing."
Marchers were scheduled to gather at Shaw University in Raleigh on Saturday at 9 a.m. and march from there to the state capitol at 10:30 a.m.
The marchers are demonstrating in support of their list of five demands of the North Carolina government:
Secure pro-labor, anti-poverty policies that ensure economic sustainability;
Provide well-funded, quality public education for all;
Stand up for the health of every North Carolinian by promoting health care access and
environmental justice across all the state's communities;
Address the continuing inequalities in the criminal justice system and ensure equality under the law for every person, regardless of race, class, creed, documentation or sexual preference;
Protect and expand voting rights for people of color, women, immigrants, the elderly, and students to safeguard fair democratic representation.
"With love and faith, the Moral March will kick off a year of nonviolent direct action, litigation and grassroots voter education and empowerment," Barber said. "We will keep moving forward together, not one step back."