D.C.'s Female Political Hopefuls Woo Women Voters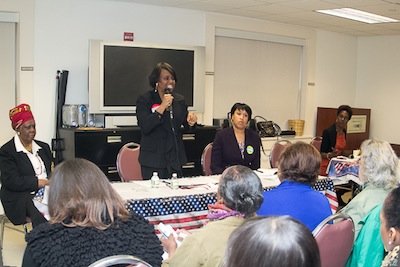 The District of Columbia has a majority female electorate but has elected few women to major public offices — a reality the leaders of a nonpartisan political organization say is unacceptable.
DC Women in Politics, a group dedicated to getting women more involved in politics, held "A Woman's Conversation" forum at the headquarters of the Greater Washington Urban League in Northwest on Sunday, Feb. 9, with the underlying message that the female vote in the city can no longer be ignored or taken for granted.
"Women will be the deciding vote in the upcoming April primaries," Anita Shelton, the group's president, told more than 100 in attendance at the forum.
Shelton noted that 52.7 percent of all District voters are women and that in the April 2013 special election to the D.C. Council, more than 70 percent of the electorate voted for one of the female candidates, including victor Anita Bonds (D-At Large).
Those results, she said, show the political power that women possess.
"When women vote, women win," she said.
The forum was broken into two segments — one focusing on the female candidates in the at-large election and the other on the female mayoral candidates.
Bonds and G. Lee Aiken (D.C. Statehood) talked at the event about why District women should vote in January to have them serve on the Council. In the mayoral segment, D.C. Council member Muriel Bowser (D-Ward 4) and former State Department official Reta Jo Lewis talked about how they will help women if they win in November.
Lewis, 60, said that she will work to empower women in the city.
"Women want a fair shot when it comes to dealing with the government," she said. "I want a city that is working for everyone."
Both said that D.C. Police Chief Cathy Lanier is doing a great job and will work to keep her in that position.
Bowser, 41, stated that women's issues and candidates need to be taken more seriously.
"We need more women on the council," she said. "We need to support a woman mayor and we need people not to give lip service to women's issues — elect one."
Despite women's loyalty to the political process, women candidates aren't often the beneficiaries. The District has only elected one woman as mayor, Sharon Pratt Kelly, who served from 1991 to 1995.
"She was the first but I hope not the last," Shelton said.
Only one woman, Linda Cropp, has ever served as chairman of the D.C. Council. There are currently just four women on the 13-member Council, and Wards 1, 2 and 5 have never had a female representative.
However, D.C. Delegate Eleanor Holmes Norton (D) has been continually re-elected since taking office in 1991, and Ward 8 in Southeast has had three female D.C. Council members.
Shelton said that when women serve in public office, their issues are addressed.
"Women are the ones who talk about the need for stronger families, wage equality and sexual assaults," she said. "We are the ones who will bring up the needs of female entrepreneurs who tend to need more capital than others and the need for fully enforcing Title IX, which calls for equality in education."