D.C.'s Female Political Hopefuls Woo Women Voters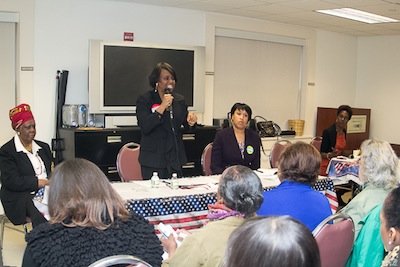 Shelton said that despite the strides that women have made in recent decades, there are still familiar barriers against them.
"Men still don't believe we can be strong candidates," she said. "They don't want to give us any money but they want us to vote and work for them."
However, Bowser said that she has excelled at raising money, noting that her mayoral war chest is bested only by D.C. Council member Jack Evans (D-Ward 2).
"I am an aggressive fundraiser," she said. "We have to get our message out. I have recruited and supported women candidates because I want women to win."
Mazie Green Holland, the vice president of DC Women in Politics, said that running for political office is not easy for women but it is a must.
"It is a tremendous to step out and run for office," she said. "You have to have it in you to run against the opposition that you will encounter."
Beverly Wheeler, 59, who dropped out of the race for the Ward 1 Council seat, said that she enjoyed the forum and agrees with its central message.
"Women have a great opportunity this year," Wheeler said. "When women serve in public office, it changes the way the city is governed."