Redskins Bring Back Doug Williams as Exec
Stacy M. Brown | 2/10/2014, 9:33 a.m. | Updated on 2/11/2014, 2:49 p.m.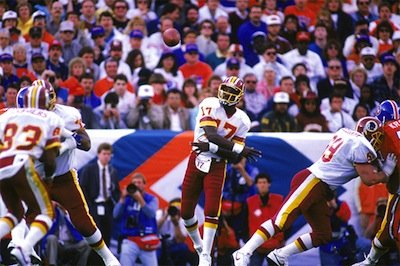 Just one week after the Seattle Seahawks' Russell Wilson became the second black starting quarterback ever to win a Super Bowl, the Washington Redskins have hired the first man to hold that distinction.
Doug Williams, who led the 'Skins to a 42-10 victory over the Denver Broncos in Super Bowl XXII in 1988, has been hired by Washington as the team's personnel executive.
Many football analysts said the move, which had been discussed for several weeks, counts as an attempt by the Redskins to help their star quarterback Robert Griffin III improve over a disappointing 2013 season in which the former Heisman winner sat out the last three games.
"It's great to be home again," said Williams, 58. "It also is great to be affiliated with a general manager and coach who are so focused and dedicated to winning. I have only one mission, to help this team obtain the talent it needs so the fans can experience the Super Bowl they deserve."
Williams, whom the Tampa Bay Buccaneers drafted 17th overall in 1978 before he signed with the Redskins in 1986, knows quite a bit about the Super Bowl experience.
Williams earned the game's Most Valuable Player honors after he dominated the Broncos, throwing for a then-record 340 yards and four touchdowns despite having recently undergone root canal surgery.
In announcing Williams' hire on Monday, Redskins' general manager Bruce Allen said winning a championship remains the paramount concern and goal of the organization. Allen, who joined the Redskins in 2009, also said that the team believes Williams could help in their quest for a title.
"We are focused on finding people with genuine football insight and a passion for winning," he said. "As a player, coach and scout, Doug has seen it all and done it all, and we believe he has an incredible talent for identifying the type of players we want with the Redskins."
Williams likely will have conversations with Griffin, 23, about the star quarterback's development. After a rookie campaign in which he completed more than 65 percent of his pass attempts with 20 touchdowns and just five interceptions, Griffin faltered in 2013 with just 16 touchdowns, 12 interceptions and a 60 percent completion rate.
Williams told the NFL Network after the Redskins drafted Griffin that he shouldn't let the external pressure to succeed affect his game.
"I don't want to say living up to them, I want to say try to live up to them," he said of the expectations facing Griffin. "Because you're going to have so many people expecting him to turn water into wine and I think what he has to do is do what he did when he was at Baylor University. Play his game and hope that he's got some people around him. And I think the Redskins really understand that they have got a franchise quarterback and now they have got to find some pieces to the puzzle to go with him. He can't go in with the idea that he can do it alone."