Redskins Bring Back Doug Williams as Exec
Stacy M. Brown | 2/10/2014, 9:33 a.m. | Updated on 2/11/2014, 2:49 p.m.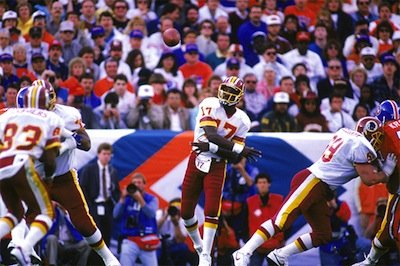 Williams said winning the Super Bowl requires a total team effort.
Born in Zachary, La., Williams starred at Grambling State University before Tampa Bay drafted him in the first round. He led the Buccaneers, who had never been to the playoffs before Williams arrived, to the postseason in three of the four years he played in Tampa Bay, including a trip to the NFC championship game in 1979.
During that time, Williams stood as the only African-American quarterback in pro football and, despite his success, his $120,000 salary proved to be the lowest among all at the important position.
When the Bucs offered him a raise to $400,000, which still would leave him as the lowest paid quarterback in the league, Williams declined and signed a more lucrative deal with the Oklahoma Outlaws of the United States Football League, where he shined before signing with the Redskins and returning to the NFL.
His historic Super Bowl victory with the 'Skins proved nothing short of phenomenal, not only because of the root canal surgery and the fact that he went up against Hall of Fame quarterback John Elway, but also because of the emotional trauma Williams faced at the time.
Still mourning the death of his wife because of complications from a brain tumor, Williams found out that his father couldn't make the big game because of an illness.
Additionally, he was repeatedly reminded by nearly everyone he encountered leading up to the game that not only had an African-American quarterback never won a Super Bowl, but no black player at the position had even played in one.
"It was quite the time," said Williams, who also coached Grambling's football team. "(Then-general manager) Bobby Beathard didn't bring me in to be the first black quarterback in the Super Bowl. They brought me in to be the quarterback of the Washington Redskins and we won."