African-Americans Count for Little at the World Bank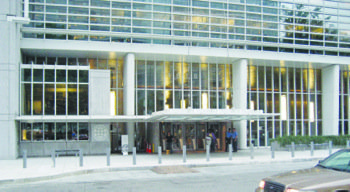 Bea Edwards, executive director and international director of the Government Accountability Project (GAP), concurs with Muhammad's analysis, saying that Bank officials have to be shamed and punished financially before the Bank will change because over the last 30 years, officials have been incapable or unwilling to correct these egregious problems.
"We began looking at this issue in 2009 because a whistle-blower came to us with the claim that this person was about to lose a job because of discriminatory practices," Edwards said. "We did a study in 2010, as well as surveys. We found that the worse racial discrimination was directed at African-Americans. Whenever we asked about them, people would automatically begin counting on their fingers. Yet there are more than 1,000 Americans in professional grade positions."
According to a 2005 Staff Association's report, Muhammad said, in a span of five years, more than 450 victims of racial discrimination filed complaints with the office of the Bank's Senior Advisor for Racial Equality. Since then the Bank stopped disclosing the number of black complainants. The policy is: "if the evidence exposes a disgraceful culture, kill the evidence and let the culture live."
And Edwards notes that a 2009 GAP report documented what she regards as two disturbing phenomena: That a review of documents over the course of 12 years (1996-2009) reveals that a World Bank tribunal failed to find discrimination in any of the 21 racial discrimination cases filed by black staff.
"Given the fact that a series of studies have found systemic discrimination within the institution, and that the Bank's own data reveal racial differentials, this record at the tribunal is disturbing," she said.
Parenthetically, she said, the tribunal dismissed all five additional cases it reviewed since 2009, maintaining its 100 percent rejection rate.
Also, the report noted, "Although the number of cases reviewed was not large enough to draw general conclusions, it appears that staff members of African heritage who allege discrimination are unlikely to receive vindication before the tribunal. In contrast, complainants of other races who allege racial discrimination or applicants claiming reverse discrimination have better prospects for compensation awards."
Edwards said she thinks there are contributing factors inside the institution that may affect factors that lead up to hiring. One excuse Bank officials offer, she said, is that the African Bank population is not as exposed to the type of education or career experience the Bank requires.
"The problem is not just recruitment," Edwards said. "African-Americans face a disadvantage in retention and promotion. And they're less likely to stay on for a career."
"There is a lack of political will at senior levels."
So disturbed is Edwards at what GAP reports and surveys revealed, she wrote in the publication Foreign Policy in Focus that "the pattern of discrimination at the World Bank and the lack of vindication for complainants at the tribunal translate into an environment of lawlessness and impunity where breathtakingly racist incidents can still occur."
The case has attracted the attention of the Congressional Black Caucus, Reps. Eleanor Holmes Norton, Barbara Lee, the Rev. Jesse Jackson and the National Action Network. Nothing, so far, has pushed the Bank to reverse course.