Alexandria Focus of Informer Black History Tour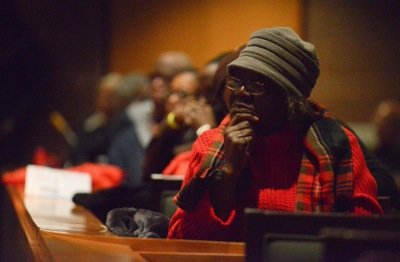 A highlight of the tour was the Freedom House Museum. The building once housed a slave "holding pen" and slave sale and transport business, and now houses the museum and, ironically, the Northern Virginia Urban League, a civil rights organization. As Freedom House is an interactive museum, visitors were able to touch many slave artifacts, including thick iron chains and cuffs that bound slaves together at their ankles when they were marched from the "holding pen" to slave auctions in New Orleans, La. or Natchez, Miss.
"We had information that Solomon Northup, whose story is told in the feature film '12 Years a Slave' was held here before he was shipped to Louisiana," said museum curator Julian Kiganda. "But now we know that he was held in Washington, D.C. James Birch, who bought the slave business and the Alexandria 'holding pen' from its previous owners, bought Northup and shipped him to New Orleans." Museum materials say that Birch beat Northup and threatened to kill him if Northup ever told anyone he was a free man from upstate New York, and that he had been kidnapped.
Other tour sites were Shiloh Baptist Church on Duke Street, one of Alexandria's oldest African-American churches; and the African American Heritage Park on Holland Lane, which includes a small 19th century African-American cemetery and a sculpture "Truths that Rise from the Roots – Remembered" by Jerome Meadows, honoring African-Americans' contributions to the city. The bus also stopped at the Duke Street sculpture of the Edmonson sisters, Emily and Mary, who tried unsuccessfully to escape slavery in 1848 on the schooner Pearl.
A tour lunch took place at the Charles Houston Recreation Center, where participants were greeted by Alexandria Mayor William D. Euille and city council member John Chapman.
Two Southwest Airline tickets were raffled off during the lunch by Karen Price-Ward, the airline's regional leader for community affairs. "The tickets will take one anywhere the airline flies, and there are no blackout dates," she said.
Connie Brown, 62, of Glenarden, Md., and Marlena Georges, 13, of Northeast Washington won the tickets. "I don't know where I'll go yet," said Brown, "but I have family members in Bermuda." "I'm excited and surprised that I won these tickets," said Marlena.
The tour concluded with stops at the Alexandria Black History Museum on Wythe Street, formerly the site of the Robert Robinson Library, a segregated facility built for the city's African-Americans, and the Alexandria Library, Barrett branch, on Queen Street. In 1939, African-American attorney Samuel Tucker led a sit-in at the branch to protest library segregation, and the library's refusal to provide African-Americans with library cards.
The visitors returned to THEARC with nothing but praise for the event. "I've conducted thousands of tours as a tour guide myself, and this is the most prolific tour I've ever been on," said Steven Price, 58, of New Carrollton, Md.
Ibrahim Mumin, 66, a consultant in Northwest said the tour enabled him to better explain to his children and grandchildren the experience of living under segregation. Mumin said he was involved in a library protest similar to the one which took place in Alexandria when he was a youth in 1960s Georgia.
"This tour was helpful in showing many of us how to 'pass the torch' by providing information about things that are so close to us."
Assata Armstrong, 16, of Lanham, Md., said the tour proved inspirational.
"It made me want to pay back my ancestors for all that they went through. It made me want to be a stronger person, the best that I can be."
Assata's sister Ayanna, 13, said she was also moved by the experience. "The tour taught me to never give up." "I want to be successful in what I do because of the sacrifices of my ancestors."