'Bachpacking' Attunes Students to Classical Music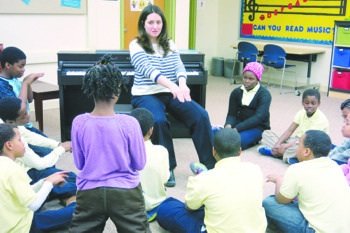 Simone Dinnerstein has been playing the piano practically all her life.
But it hasn't always been as easy as the native New Yorker made it seem during a recent visit to W. B. Patterson Elementary School in Southeast, where she talked about difficulty with a certain keyboard skill.
"I started playing when I was seven years old, but when I was nine I had trouble playing a piece that I'd fallen in love with," the classical pianist told the attentive group of 5th-graders who huddled around her, gazing from time to time at the shiny digital Yamaha piano she brought along.
But just before Dinnerstein began to play, she asked the students to recognize the point where she began to have difficulty. She played briefly, then asked for their observations. When none of the responses panned out, Dinnerstein spoke up, saying it was when she was using two fingers — the first and third — on one key. She repeated the technique so they could see for themselves.
"It's called a trill," Dinnerstein, 41, an alumni of both the Manhattan School of Music and the Julliard School of Music, said to the students' amazement.
Dinnerstein is a recording pianist for Sony Music who only plays Yamaha instruments. She had the loaner piano delivered to the District for her three-day visit Feb 5-7 to Patterson and five other schools as part of the "Bachpacking" event sponsored by Yamaha in conjunction with the District's public schools and nonprofit Northwest-based Washington Performing Arts Society (WPAS).
Dinnerstein explained that her Bachpacking presentations — which include a series of 30-minute master classes and workshops — began last month at inner-city schools in New York City.
The former piano teacher whose critically and commercially- celebrated musical talent pays tribute to German composer Johann Sebastian Bach, explained to her eager charges that piano keys are arranged as parallel lines, played in patterns and motions. In addition, she urged them to learn to play the piano and to acquire an appreciation for classical music.
During the two-hour visit to Patterson, she also encouraged students to ask her questions. She, in turn, asked if they noticed when her playing became more dramatic and, when asked if they knew the definition of a composer, the quick responses ranged from German musician Ludwig van Beethoven and singer-songwriter Ray Charles to rap artist LL Cool J.
After inviting them to come up with their own compositions, Dinnerstein showed by playing a few bars, how Beethoven was influenced by Bach.
"Beethovan studied Bach's music … when Bach was alive, piano was just being invented … you play the piano a lot by feel and a sense of space with the keys," said Dinnerstein, who acknowledged that while Beethovan was deaf, Ray Charles was blind. WPAS spokesperson Kathy Brewington, whose organization presented Dinnerstein in concert on Sunday, Feb. 9 at the John F. Kennedy Center for the Performing Arts in Northwest, said members saw her performance in the District as a chance to feature Dinnerstein's talent.
Brewington added that WPAS, which is also premiering a new technology in music called the Disklavier piano by Yamaha, used the instrument in Dinnerstein's Feb. 7 presentations at Duke Ellington High School for the Performing Arts and Ballou Senior High School.
"Too many students just haven't been exposed to classical music," Dinnerstein said. "But their ears are open, waiting for a chance to hear it," she said.
"The idea was to bring the piano to schools and to share my feelings about Bach's music with students in a classroom setting," said Dinnerstein. "And, they were very interactive and attentive. This is definitely something I want to continue doing at schools in other places."