Beverly Bond Addresses Students at GWU
Founder and CEO of Black Girls Rock! Inspires Activism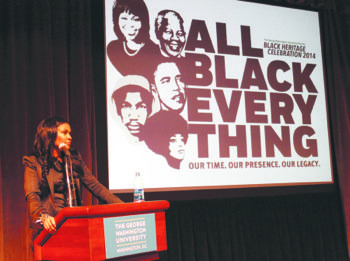 A well-known deejay and social entrepreneur recently expressed her displeasure at what she called the entertainment industry's portrayal of African-Americans during her keynote address at The George Washington University (GWU) in Northwest.
Beverly Bond, founder and CEO of Black Girls Rock!, a nonprofit youth organization that promotes the arts and encourages dialogue about the media's representation of young women, challenged an audience of nearly 100 students, faculty, and staff members at GWU's Dorothy Betts Theatre to aggressively combat television shows, movies, and music that stereotype blacks and glorify destructive behavior.
"These messages permeate our culture and no one wants to make the connection," said Bond. "[It promotes] greed and glorifies [inappropriate] behavior with no regard for the influence that the content has on young impressionable minds. I am talking about shows that give few examples of sisterhood. I'm alluding to messages that present explicit images of black women as marketing tools."
The Feb. 5 event kicked off the university's monthlong Black Heritage Celebration (BHC), during which student groups and university departments co-sponsor events, forums, and performances that highlight the cultural experiences of black people across the world.
This year's theme, "All Black Everything: Our Time, Our Presence, Our Legacy," provides an opportunity to honor black pioneers of the past and reinvigorate discussion about contemporary issues of concern. Shortly before appearing at Betts Theatre, Bond chatted with students, faculty members, and administrators at GWU's Multicultural Student Services Center at a gathering sponsored by the BHC Committee.
While much of Bond's address denounced toxic media messages, she also touched on the failure of millennials and national leaders to sustain mass movements against Florida's "Stand Your Ground" law and socioeconomic disparities that have persisted decades after the Civil Rights Movement. She said that her frustration with the lack of action taken against media misrepresentation of black people inspired her foray into youth mentorship.

"I just wanted to bring awareness to a problem that was so apparent but seemed so invisible," said Bond. "I waited for someone to speak up. I thought we had leaders. Why were so many silent in the media's assault of black women? I started Black Girls Rock! to encourage our young women to internalize that they had a multitude of gifts to give to the world."

Bond founded Black Girls Rock! in 2006 after a successful career as a model and later a deejay, performing with Erykah Badu, Sean "Diddy" Combs, Alicia Keys and many others. The nonprofit organization provided youth enrichment programming including the annual Black Girls Rock! award show that honors exceptional women of color and highlights the diverse talents of black women around the world. The inaugural 2010 program attracted nearly three million viewers. It later won an NAACP Image Award for Outstanding Variety Series or Special in 2013.
Bond has earned a spot on Ebony Magazine's Power 100 List for five consecutive years and she recently appeared on Essence Magazine's 40 Fierce and Fabulous Women Who are Changing the World list along with Oprah Winfrey, Queen Latifah, and Ellen Johnson Sirleaf, president of Liberia and Africa's first female head of state.
Karima Ball, owner of Viva La Girls Spa, an Upper Marlboro, Md-based spa for girls, applauded Bond for choosing an unconventional career path.
"It was very inspiring to know that she started as a deejay," said Ball, 38. "Many African-American women often do not see life ahead of their current job so they may not know that they can do more," said Ball who lives in Northeast.
Kayla Dawes, a senior at GWU, served on the BHC Committee and said that Bond's reputation as an advocate for people of color and women compelled the group to invite her to speak.
"At the end of the day, we wanted a well-recognized woman with clout who was a positive role model for our community," said Dawes, 21, vice president of the GWU's Black Student Union. "I think she provided knowledge and insisted that even in the age of technology, we have to organize to tackle issues that persist," said Dawes who lives in Atlanta.