Books About African-American History Tours & Tourism
2/12/2014, 3 p.m.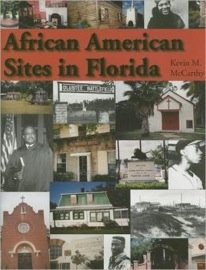 African American Sites in Florida
By Kevin M. McCarthy
African Americans have risen from the slave plantations of nineteenth-century Florida to become the heads of corporations and members of Congress in the twenty-first century. They have played an important role in making Florida the successful state it is today. This book takes you on a tour, through the 67 counties, of the sites that commemorate the role of African Americans in Florida's history. If we can learn more about our past, both the good and the not-so-good, we can make better decisions in the future. Behind the hundreds of sites in this book are the courageous African Americans like Brevard County's Malissa Moore, who hosted many Saturday night dinners to raise money to build a church, and Miami-Dade's Gedar Walker, who built the first-rate Lyric Theater for black performers. And of course also featured are the more famous black Floridians like Zora Neale Hurston, Jackie Robinson, Mary McCleod Bethune, and Ray Charles.
Speaking for the Enslaved: Heritage Interpretation at Antebellum Plantation Sites
By Antoinette T. Jackson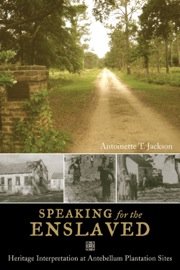 Focusing on the agency of enslaved Africans and their descendants in the South, this work argues for the systematic unveiling and recovery of subjugated knowledge, histories, and cultural practices of those traditionally silenced and overlooked by national heritage projects and national public memories. Jackson uses both ethnographic and ethno-historical data to show the various ways African Americans actively created and maintained their own heritage and cultural formations. Viewed through the lens of four distinctive plantation sites—including the one on which that the ancestors of First Lady Michelle Obama lived—everyday acts of living, learning, and surviving profoundly challenge the way American heritage has been constructed and represented. A fascinating, critical view of the ways culture, history, social policy, and identity influence heritage sites and the business of heritage research management in public spaces.
Black Heritage Sites: The South/North
By Nancy C. Curtis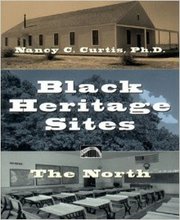 Winner of a Choice Outstanding Academic Book Award, Black Heritage Sites is a unique travel guide to the major landmarks of African American history across the United States. This volume includes descriptions and detailed visitor information for hundreds of places of national and local significance, from churches and schools to battlefields and cemeteries, from stops on the Underground Railroad to landmarks of the 1950s civil rights movement. Black Heritage Sites is perfect for travelers and historians of all kinds--from the family planning a cross-country trip to the armchair traveler interested in gaining a unique perspective on African American history.
Slavery And Public History: The Tough Stuff of American Memory
By James Oliver Horton, Lois E. Horton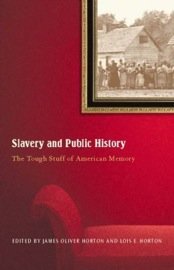 America's slave past is being analyzed as never before, yet it remains one of the most contentious issues in U.S. memory. In recent years, the culture wars over the way that slavery is remembered and taught have reached a new crescendo. From the argument about the display of the Confederate flag over the state house in Columbia, South Carolina, to the dispute over Thomas Jefferson's relationship with his slave Sally Hemings and the ongoing debates about reparations, the questions grow ever more urgent and more difficult.
Edited by noted historians James Oliver Horton and Lois E. Horton, this collection explores current controversies and offers a bracing analysis of how people remember their past and how the lessons they draw influence American politics and culture today. Bringing together some of the nation's most respected historians, including Ira Berlin, David W. Blight, and Gary B. Nash, this is a major contribution to the unsettling but crucial debate about the significance of slavery and its meaning for racial reconciliation.