D.C. Political Roundup: Tillman Wants Better for Ward 6
2/12/2014, 3 p.m.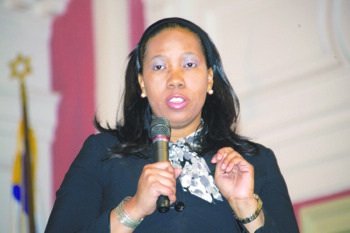 Ward 6 resident Shelonda Tillman wants to represent her neighbors in the John A. Wilson Building in Northwest because she said that her two opponents simply aren't up for the job.
Tillman is on the Tuesday, April 1 Democratic Party ballot for the Ward 6 D.C. Council seat with Charles Allen, a former aide to D.C. Council member Tommy Wells (D-Ward 6) and Darrel Thompson, who has worked for Barack Obama and U.S. Senate Majority Leader Harry Reid (D-Nev.). She said that her competitors have no idea what residents of Ward 6 want in a council member.
"I am concerned, like many Ward 6 residents, about the caliber of leadership in the ward," said Tillman, 37. "My opponents want to be professional politicians. The residents of Ward 6 do not want professional politicians because they sense that those types are corrupt, tell lies and deceive people."
Tillman said that her family has lived in Ward 6 since 1954 and at one point, she worked at Eastern High School in Northeast as a science teacher.
As a candidate, she's advocating the SWEEP (Seniors, Women, Education, Economic Development and Public Safety) approach to dealing with the ward's issues.
She said that there needs to be more equity in the District's public schools and middle schools need more resources to help students become more engaged in learning. Tillman said that the two-tier public-charter school system is unacceptable and more communication should take place between the two.
"We have two systems in one city and that is not right," she said.
On the issue of economic development, Tillman said that better schools are the answer.
"Economic development is tied to a good school system," she said. "People want to live where there are good schools and if you have good schools, more residents will come to live and spend their money."
Tillman also said that she wants her ward to become more senior-friendly.
"I want public transit for seniors to be free and we need a 24-hour medical facility in Ward 6 to make sure that their health needs are taken care of," she said. "Seniors have been here during the tough years and they deserve to be treated better."

Allen Intends to 'Crash' Mayor's Race
Carlos Allen, a resident of Northwest, made national headlines when he attended a White House event without a proper invitation several years ago. Allen now wants to join the ranks at the John A. Wilson Building in Northwest as the city's next mayor.
He's a candidate in the Tuesday, April 1 Democratic Party mayoral primary and said he knows what he wants to do when he wins.
"When I am mayor, I will focus on education and jobs," said Allen, 43. "We need to combine those two things together. An education will help you get a better job and help people start their own businesses."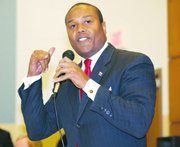 Allen, who came to the District in 1990, has owned and operated several companies that deal with credit-financial consulting, mortgage lending, real estate investing and an Internet magazine.
In 2009, Allen, along with Tareq and Michaele Salahi of Virginia, attended a Nov. 24, 2009 White House State Dinner uninvited. Allen received ample publicity for the move. Subsequently, ABC's "Good Morning America" interviewed him.
In 2010, he ran for District mayor and lost.
Allen said that he wants to ensure there's housing for all District residents and plans to work on providing marketable skills to those who do not have them.
"My job as mayor of the District is to make sure that things happen for everyone in the District of Columbia," he said.