District Milliner's Hats Part of New Smithsonian Museum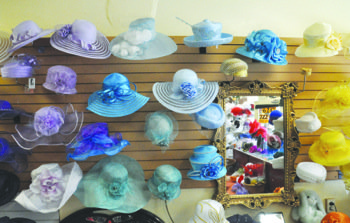 Black women's head coverings, from the wrapped fabric of ancient and contemporary Africa to today's "church hats," are a significant cultural expression in African-American history. African-American women, particularly "first ladies," the term for the wives of churches' head ministers, still wear hats in church, even after most white congregations stopped requiring women to do so.
African-American women's "church hats" noted for high crowns, broad brims, vivid colors and elaborate decorations are legendary. Such distinctive hats were a trademark of Dr. Dorothy Height, longtime president of the National Council of Negro Women. Many of her hats were designed by District of Columbia milliner Vanilla Beane. Her craftsmanship was honored by the National Museum of African-American History and Culture, when it acquired five of her original hats for its African-American fashion designers collection.
"I'm happy to be recognized," said Beane, 94. Originally from Wilson, N.C., Beane, who moved to the District in 1942, was the youngest of seven children in a hard-working farming family. Her sisters, Margaret Harris, 98, a former dressmaker and designer, and Inez Dade, 101, who founded Tiny Tots preschool and nursery on Rock Creek Church Road, Northwest, also live in the District.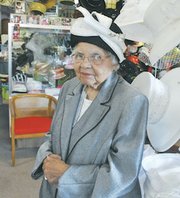 Beane's interest in millinery began in the 1950s, when she worked as an elevator operator in a downtown District building which housed the Washington Millinery supply store. "I saw hat designers going into the store," said Beane. "I looked at the kinds of materials they would buy. I bought materials, and started making hats at home as a hobby."
The store hired Beane in 1955 as a seamstress. "I went to a night class that taught hat-making, and it helped me along," she said.
She eventually left the store to work for the General Services Administration as a mail clerk. She continued making hats after retirement. "I held hat shows at my house and invited people to my shows," said Beane.
Beane joined an affiliate of the National Council of Negro Women. It was called the National Association of Fashion and Accessory Designers. She joined the affiliate in order to promote her hats. "At that time, African-American fashion designers weren't recognized too much," she recalled. "The organization meets every year in different cities and has [design] competitions. If you win three first prizes, you are inducted into their Hall of Fame. I won three first prizes."
In 1980, Beane opened her hat shop, Bené Millinery and Bridal Supplies, on Third Street, Northwest, in the District's Manor Park area, where it is still in operation.
The National Museum of African-American History and Culture became aware of Beane and her hats because of her work for Height. "We reached out [to Beane] at last summer's Smithsonian Folklife Festival, where Ms. Beane was an exhibitor," said Elaine Nichols, the museum's senior curator of culture. "I purchased a purple hat with a feather from Ms. Beane that day for the museum, because it was in the style of the hats she made for Dr. Height."
"We will display her hats in our preview exhibition of African-American designers' works as an example of what the public will see when the museum is built, and opens in December 2015. Until we open, we have gallery space in the National Museum of American History."