District Milliner's Hats Part of New Smithsonian Museum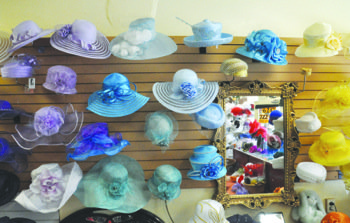 Beane has supplied hats for retired D.C. Superior Court Associate Judge Mary A. Gooden Terrell's High Tea Society. Founded by Terrell in 1997, the organization increases young girls' self-esteem, and encourages their academic and entrepreneurial achievements.
"Ms. Beane puts a part of herself and a touch of love in every hat that she has created for me," said Terrell. "I draw a picture, give her an idea, or show her an outfit and she creates a vision of delight that is a head-turner. Dr. Height and I would always compare our 'Beane hats' because each of her hats captures her clients."
Delores Shannon, 87, of Northwest, is another loyal customer. "I've bought her hats for years," she said during a recent visit to the shop. "I've owned 76 hats, and I bought most of them here. You don't see anything like them in other stores."
Ethel Sanders of Silver Spring, Md., owner of the Lovely Lady Boutique clothing store two doors away from Beane's hat shop, said "Ms. Beane and I work together on fashion shows. Her hats are always a little different, out of the ordinary. When brides-to-be come to her, she makes one-of-a-kind hats for them."
Beane doesn't make as many hats as she used to, but she accepts requests. "Depending on the hat style, I can make one in a day if there's a rush on it. My favorite hat style is the turban."
Beane can only provide limited guidance to young people who want to become milliners. "It's hard to tell someone how to do something," she said. "You just start making a hat, and if it doesn't come out the way you want it, you just keep trying."
For more information on The National Museum of African-American History and Culture, visit www.nmaahc.si.edu.