LETTERS TO THE EDITOR: Black Women & Architecture
2/12/2014, 3 p.m.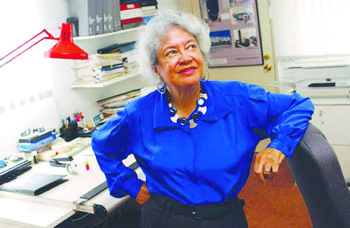 I am writing to thank you for including the Black History Month feature, "Fairer, But Certainly Able." I think it is very important to make sure that we recognize the contributions that African-American women have made in the field of architecture and design.
Architecture is a field in which women do not often receive their due credit for the work that they've done regardless of race or ethnicity. The feature you have in this week's issue is valuable because young women might read it and be encouraged and inspired by the trailblazing efforts of women like Norma Merrick Sklarek, Amaza Lee Meredith, and even the many, many women who contributed their skills in design and engineering during World War II.
These are not accounts that are commonly found in the history curriculums of schools today; therefore, please continue to highlight and praise the work that has been done to "uplift the race" by men and women of color.
Sincerely,
Norma Lincoln-Wright
Native Washingtonian
A Day to Remember!
We were on the Washington Informer's African American Heritage Tour to Alexandria Va., on Saturday, February 8. The entire experience was educational, thought-provoking, and inspirational. On one of the stops, we actually went into the building where slaves were held and sold (featured in "12 Years A Slave), and we both felt chills and rapid heartbeats.
On other stops, we learned so much that we didn't know about the efforts to integrate the Alexandria Public Library, as well as about the dynamic individuals whose efforts got the movement started. So often we forget that the Civil Rights Movement did not just begin in the 50's and 60's, but in the 20's and 30's, by heroes whose stories are mostly unknown. We were fascinated by the buildings that were pointed out to us as once having been thriving African-American neighborhoods and businesses, but are no more.
Gentrification has claimed a huge part of our history in Alexandria, just as it has here in Washington, D.C. We were encouraged by the presence of many children and young people on this tour. We must continue to try to educate them about their history so that they, someday, can affect change in places where human rights are violated.
Thank you, Washington Informer, for a thoroughly enjoyable day that has left us spellbound with this history, and eager to go on your next tour.
Judy Williams
Tanyna Saxton
Washington, D.C.