Mills Family Seeks Justice
Firefighters Disregard Medical Emergency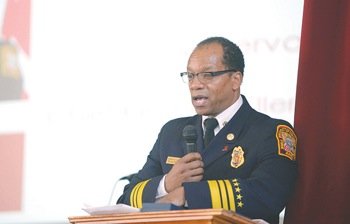 District residents and elected officials are still at a loss as to why firefighters from the Engine 15 station house neglected to help a critically ill man last month.
That man, longtime D.C. resident Medric Cecil Mills Jr., died of a heart attack after firefighters ignored the pleas of passersby who ran across the street and banged on the station house door seeking help. He and his daughter Marie were out running errands.
Add to that puzzlement, copious doses of outrage as city officials attempt to get to the bottom of what really happened on Jan. 25 in the 1300 block of Rhode Island Avenue NE.
Fire Chief Kenneth Ellerbe is weathering the storm. In a Feb. 11 interview, he described the incident as tragic, adding that he's awaiting preliminary results of an internal investigation that should be in his hands by the end of this week.
Lt. Kellene Davis, a 30-year veteran and the ranking officer at the station, has been placed on administrative leave with pay. And contrary to published reports, Ellerbe said, Davis has not retired. Another employee is on paid leave and a third person has been reassigned. The department is also studying the actions of dispatch and the crew of an ambulance which went to an address in the wrong quadrant.
Those involved will face a disciplinary proceeding by a panel of their peers, said Ellerbe.
Deputy Mayor Paul Quander said investigators have interviewed employees from a number of agencies and individuals who witnessed the incident.
"It's disappointing. We don't have any pre-determined policy that would impede an employee from helping someone in need," Ellerbe said. "I don't want to say anymore until [the investigation is completed]. I don't want to jeopardize the process."
"Public officials, of course, are outraged as is the public. The public is also concerned that we may not be able to handle our responsibilities. But this is an isolated incident."
Ellerbe said he expects to be held accountable in cases such as this, and he also holds his employees to high standards. As the head of a city agency, Ellerbe accepts praise when it's offered and shoulders the burden when criticism is heaped on the agency for which he is responsible.
"I don't ride the fire truck or an ambulance but I take responsibility," Ellerbe said during an interview with other media outlets. "If they (fire personnel and EMS staffers) aren't where they're supposed to be when they're supposed to be, that's a problem …"
A number of Ellerbe's critics on the D.C. Council have joined the chorus of calls seeking Ellerbe's removal. Perhaps his most persistent critic is Council member Mary Cheh (D-Ward 3).
Mayor Vincent C. Gray (D) expressed indignation and reiterated his dismay during an interview this past weekend. Like Ellerbe, he said he wasn't at liberty to fully express how he felt.
"All I'll say is that the investigation continues, and I can absolutely assure you that we'll handle it," he said.
On the morning of February 6, members of the Mills family and attorneys from the Cochran Law Firm, held a press conference in the parking lot where the 77-year-old Mills collapsed.