Mills Family Seeks Justice
Firefighters Disregard Medical Emergency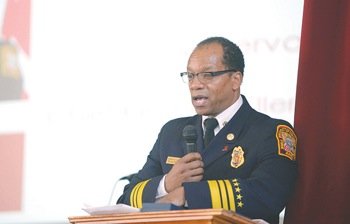 Mills was a District resident and city employee. A Navy veteran, Mason and a Shriner, he worked at the Department of Parks and Recreation. Mills' family remembered him as a loving, caring person, a good neighbor and an outstanding family man who considered every stranger a friend.
Their lawyer, Karen Evans, said the family is seeking swift changes to a law that protects city agencies from accountability in such cases. They also said the firefighters and D.C. Fire and Emergency Medical personnel who refused to help when Mills suffered a medical emergency and subsequently died should be fired.
"It's especially tragic that someone who gave so much to the city died this way," Evans said before a bank of microphones. "We want to expose to the world what happened in the nation's capital. It could happen to anyone of us, anytime. This is a call to arms. Change must come. We don't want another taskforce, another investigation, another review."
Evans and family members said fire department employees mishandled the situation and caused a devoted husband, father and grandfather to die needlessly.
"We are deeply saddened and devastated by the sudden death of my father," said his son, Medric Cecil Mills III. "It is extremely painful to think that my dad could still be with us if he was given the proper care by firefighters when he suffered this medical emergency. … Bystanders were screaming for help to the firefighters, who are provided training to respond to medical emergencies."
"But when a medical emergency happened right on their doorstep, they ignored us," he said.
The younger Mills said when a bystander shouted for help, the fire station employee just leaned against the fire truck.
"It was unbelievable," he said.
Fire personnel also told bystanders to call 911.
Mills' daughter Marie said several minutes passed before a police officer waved down a passing ambulance. Doctors at Medstar Washington Hospital Center pronounced her father dead shortly after their arrival.
"The DC Fire and EMS Department has proven that it cannot hold itself to an acceptable standard," Marie Mills said. "There must be accountability. When D.C. residents are suffering life-threatening emergencies directly in front of fire stations and do not receive help, serious reform is needed."
"There must be change. We do not want this story to be swept away and forgotten by the public."
Evans said members of the city's emergency services have engaged in a longstanding pattern of negligent behavior and poor treatment of residents since 2007. She cited the cases of Andre Rudder in 2010 and Durand A. Ford as two of the several other cases where residents sought aid from fire department personnel which was not forthcoming.
Rudder pounded on the door of Engine 7 [in Southwest] when he began suffering chest pains but an emergency medical technician didn't help him, telling him to wait in his car for an ambulance. He died outside the station awaiting treatment. His family filed a wrongful death lawsuit which is pending. City officials have indicated that they will assert an immunity defense pursuant to the Public Duty Doctrine.
"It was four years ago in May," Rudder's stepfather Greenfair "Brother Moses" Moses recalled. "He was fit, a 35-year-old fitness instructor who didn't drink or smoke. They told him to go sit in his car. He would have been better off if he had just jumped in a cab and gone to the hospital."
"The thing is they don't help people. We filed the lawsuit four years ago and we're still waiting. It's going into discovery. The state's attorney's office tried to pay us $2,000 to keep quiet but Martin Luther King said so many people stay silent. We won't."
Evans said the family wants more than sympathy and condolences.
"The question is whether the law strikes the appropriate balance," Evans said. "…The District is asserting the immunity defense … the law in D.C. makes it extremely difficult to hold public servants accountable. It's a nice name and sounds like it helps, but it doesn't."
"The city government holds no one specifically responsible. There's no recourse. It's outdated and unjust. We are calling on the mayor and the council to change this law," she said.