Program Educates Youth on Dating Violence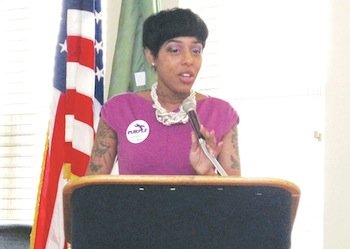 Patrice George realized she became the victim of domestic abuse after police charged her boyfriend with the murder of her infant son.
While in her teens, George, 22, of Northeast D.C. said she endured a spat of abusive relationships. One boyfriend beat her with a garden shovel, another left her lying on the ground in a parking lot bleeding from the ear.
"I kept [the abuse to myself]," she said. "I thought that was love."
George shared her experience as one of the speakers at Raising Queens Table Talk, a program hosted by the Town of Forest Heights on Saturday, Feb. 8. The discussion was a partnership with An Earthly Embrace, a community based-nonprofit in Prince George's County that aims to encourage and rebuild the lives of women and children impacted by domestic violence. The roundtable took place in observance of Teen Dating Violence Prevention and Awareness Month with the goal of providing information on relationship abuse to teens and young girls.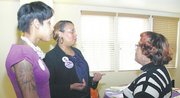 George's former boyfriend, Steven Allen Cephas, was sentenced to serve 15 years in prison after pleading guilty to voluntary manslaughter in 2011 for the death of Dominic Dwayne Kingsbury, George's 20-month-old son. George told a group of about 12 girls and teenagers during the discussion to look out for the early signs of domestic abuse.
The lesson served as an important one for young women; those between the ages of 16 and 24 experience the highest rates of relationship violence, according to the National Center for Victims of Crime, based in Northwest. Additionally, 33 percent of teenage girls report experiencing physical violence at the hands of a dating partner, another 40 percent of teenage girls between the ages of 14 and 17 reported knowing someone their age who has been hit or beaten by a boyfriend, according to the center.
"I never knew about domestic violence — it was never taught to me," George said. "Love [yourself], put [yourself] first."
Organizers of the event hoped that it could begin a discussion between girls and young women in the community on the importance of building healthy relationships in their lives and to ensure they don't become victims or abusers.
"Our girls just don't know how to act like ladies," said Cynthia Eugene, 36, founder of An Earthly Embrace. "I wanted to educate people about domestic violence."
Eugene said she founded An Earthy Embrace in 2012 after years of guiding her friends and loved ones out of abusive relationships. She said she began thinking seriously about discussions surrounding domestic violence in young people's lives after seeing a teenage girl in Forest Heights aggressively attack a teenage boy.
Eugene said that she wants to see changes happen in Forest Heights before she branches out into other communities; and officials in the town agreed to partner and share their experiences on domestic abuse.
"If someone calls you [an expletive], that's not OK," Forest Heights Mayor Jacqueline Goodall, 59, told the group. "That begins to tear down you who you are."
During the discussion, girls were given packets of information about defining romantic relations and quizzed on acceptable behaviors in dealing with friends and loved ones.
"Let's talk about what attracts you to bad boys," Eugene said to the girls in one of the exercises.
"Their looks! Their bodies!" yelled Carmin Maddox, 16, of Forest Heights.
Still, the discussion aimed to give practical information — teaching young women lessons that are relevant to their lives.
"Domestic violence takes many forms," Goodall said. "It isn't just somebody punching your lights out … Abuse doesn't only come from your boyfriend or girlfriend, it can be from [family as well]."
For more Prince George's County/Maryland news, follow @JoshuaGarnerDC on Twitter.