Prudential Honors Youth Volunteers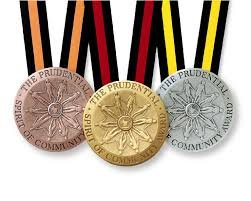 When it comes to taking a stand against social inequities such as homelessness, hunger and bullying, D.C. students Sydney Kamen and Maxine Bailey have been on the front line, volunteering to collect food, school supplies and emotional support.

As a result of their efforts, Sydney, 17, of Georgetown Day School, and Maxine, 13, of Holy Trinity School, have been honored along with 100 other civic-minded youth from each state as recipients of the Prudential Spirit of Community Award. The nationwide program recognizes students in grades 5-12 for outstanding volunteer service.
"We applaud each of these young people for their exemplary volunteer service," said John Strangfeld, Prudential chairman and CEO. "They use their time and talents to make a meaningful difference in their communities, and we hope their example inspires others to do the same."
The awards program, now in its 19th year, is governed by the New Jersey-based Prudential Financial in partnership with the National Association of Secondary School Principals.
"By going above and beyond in their volunteer service, these students have brought positive change to communities across the country," said JoAnn Bartoletti, executive director of the association. "Congratulations to each and every one of them on this well-deserved honor."
Each student will receive an expenses-paid trip to the District in May for four days of events in recognition of their volunteerism. They will also receive $1,000 and an engraved silver medallion.
During that time, 10 of the honorees will be named America's top youth volunteers of 2014.
Other area honorees include Maryland residents Yiyi "Jessica" Li, 17, who attends Richard Montgomery High School, in Potomac, and Ally Salvino, 13, from Kingsview Middle School in Germantown; as well as Northern Virginia residents William Thomas, 15, who attends Gonzaga College High School, in D.C. and Tomas Nichols, 12, a student at H. H. Poole Middle School in Stafford.