Rediscovering Washington, D.C.
2/12/2014, 3 p.m.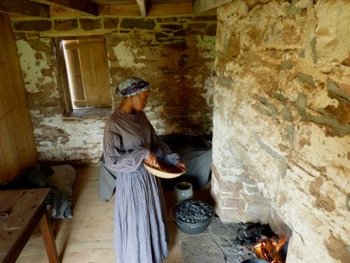 The culture of Washington, D.C., is infused with African-American history.
With its Southern connections, Washington has always had a significant African-American population. Before the Civil War, the city was home to a growing number of free blacks who worked as skilled craftsmen, hack drivers, businessmen and laborers. It also included enslaved African-Americans and was the site of slave auctions before they were outlawed in the city in 1850.
Slaves owned in Washington were emancipated on April 16, 1862, nine months before Lincoln's Emancipation Proclamation of Jan. 1, 1863. Washington remained home to a large African-American population which created vibrant communities and championed civil rights despite racial segregation and prejudice.
D.C.'s unique history is shaped by this strong African-American heritage. By seeking out opportunity and succeeding in education, business and the arts, D.C.'s black population became integral in the development of Washington's identity as a culturally inclusive and intellectual capital.
If you're interested in learning about D.C.'s African-American heritage, start your exploration with a visit to the Smithsonian Institution's Anacostia Community Museum. Located in a historic African-American neighborhood southeast of the Capitol, the museum houses a collection of approximately 6,000 objects dating back to the early 1800s. The history of this neighborhood — home to orator and abolitionist Frederick Douglass — is explored throughout the museum.
After you've visited the Anacostia Community Museum, pay a visit to the Frederick Douglass National Historic Site, located at his home, Cedar Hill. When Douglass bought the nine-acre estate, he became the first African-American to buy a home in the Old Anacostia neighborhood. Tour the 21-room Victorian mansion or take part in a program to learn about Douglass' efforts to abolish slavery. Set high in the hills, the house and its grounds also open up onto one of the most breathtaking views of the city.
Anacostia isn't the only area of D.C. with roots rich in black history. Duke Ellington was born and raised in Washington's Shaw neighborhood and played in his first band here. The music legend's influence is still evident throughout the city, especially in the U Street Corridor — dubbed "Black Broadway" — where Ellington grew up and where jazz greats such as Cab Calloway, Pearl Bailey and Jelly Roll Morton once played. A clearly marked neighborhood heritage trail points out landmarks like the Lincoln Theatre, the newly restored historic Howard Theatre, the African-American Civil War Memorial and the Thurgood Marshall Center for Justice and Heritage, home of the first African-American YMCA. Nearby, Howard University is one of the nation's top historically black colleges.
Another way to discover D.C.'s black history is to follow Cultural Tourism DC's African-American Heritage Trail. More than 200 significant and historic sites rich in black history — from churches and schools to famous residences and businesses — have already been identified in the city, and the trails shed even more light on the contributions of D.C.'s black population in terms of building strong communities, churches and businesses