Republicans Mark Black History Month with Luncheon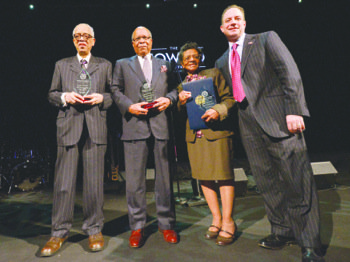 In what Republican National Committee Chairman Reince Priebus expects to be a yearly event, he and more than 300 mostly African-American Republicans, supporters and their friends celebrated Black History Month with an awards luncheon.
This year's honorees were former Health and Human Services Secretary Dr. Louis W. Sullivan; retired Ohio District Court of Appeals Judge Sara J. Harper; and Detroit entrepreneur and former General Motors executive William C. Brooks. The luncheon took place at the newly renovated Howard Theatre in Northwest, a fitting locale several speakers said, because of its rich history and tradition and the occasion being celebrated.
Luminaries included Howard University President Dr. Wayne A.I. Frederick; GOP National Committee Member Dr. Ada Fisher; Hilary Shelton; Bob Brown; D.C. GOP Chairman Ron Phillips; D.C. GOP Vice Chair Jill Homan; former Florida Congressman Allen West; news personality Roland Martin; and a host of Republican national, state and local elected officials.
Priebus, 41, took the opportunity to remind his audience of the ties between the luncheon with the national minority outreach efforts he's initiated.
"… It's great to be in the historic Howard Theatre for this occasion, because this is a place where history was made," he said. "I look around and I think about all the greats who once performed here: Duke Ellington, Ella Fitzgerald, Cab Calloway, Nat King Cole…"
"… It's a real privilege, as Republican National Committee chairman, to be here. Now, last year, we started a tradition with the Black Trailblazers Awards Luncheon. We were blessed to give awards to the great Bob Brown and the amazing Bill Coleman. Many of you were here and you know it was something new for us. It was important for our party – and as chairman to me personally. As we work to engage more voters and grow our party, we also wanted to remember our past."
Priebus said the GOP has hired black engagement staffers all over the country.
"We're hiring people to work in the community, who are from the community so they can get to know people and build relationships where they live, work and worship," said the Wisconsin native who is serving his second term as chairman. "We still have some work to do but I think we've accomplished some good things in the last year …"
Speakers used their bully pulpit to stir up the faithful and exhort them to continue to help make the GOP more attractive to a completely new audience.
Keynote speaker, Texas Education Commissioner Michael L. Williams, spoke to his expertise, telling listeners of the need to overhaul his state's education system in the face of shifting demographics. The number of children going to schools in Texas is higher than 38 states, with 65 percent of students either black or brown and 60 percent who come from poor households.

"There's no better way to improve this country than through education," said Williams, who is responsible for five million children from pre-k to high school. "I want to move from giving our children a quality education to an excellent education. We need to rehaul the education program, develop a different pedagogy."