Republicans Mark Black History Month with Luncheon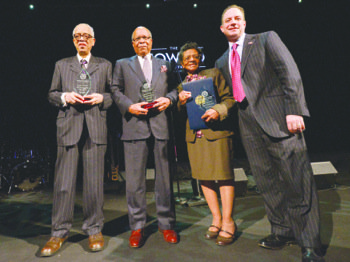 "We have to go about this differently with regards to evaluating teachers. We should not submit our children to failing schools in perpetuity. We also have to get creative about how we educate and instruct, and we have to accelerate the learning process."
Williams added that every young person should have the post-secondary school experience.
Harper, 83, has a career loaded with firsts. She's the first black woman to graduate from Case Western Reserve University Law School; the first woman to serve on the judiciary of the U.S. Marine Corps Reserve; and the first of two women to win seats on the Ohio 8th District Court of Appeals.
"I do appreciate so much receiving this honor," said Harper who said she comes from a family of Republicans. "I shall treasure this award because of the source of it but I have 10 to 11 trunks of them," she said with a chuckle.
Sullivan credited his parents for a strong foundation and the success he's enjoyed, saying they challenged him to maintain a standard of educational excellence, while Brooks pointed to mentors Rosa Parks and the Rev. Leon Sullivan for helping guide his footsteps.
"I applaud Reince Priebus for his positive outlook and for thinking out of the box," said Brooks, who served three presidents in the White House and federal government and who is the CEO of BPI Communications in Detroit. "What type of society do we intend to become? The complexion of this country is changing, and America must come to terms with this or America won't be one of justice and equality for all."