D.C. Region Blanketed by Nearly a Foot of Snow; More to Come?
WI Web Staff | 2/13/2014, 12:50 p.m.
The D.C. metropolitan area, along with much of the East Coast, was slammed by a powerful winter storm that brought substantial amounts of snowfall, the likes of which not seen since 2010's "Snowmageddon."
And it may not be finished.
The storm, which moved into the region near the end of the Wednesday evening rush hour, began to taper off Thursday afternoon, but not before dropping as much as 11 inches on some parts of the city.
Though the precipitation had turned into a mix of light snow and freezing rain by Thursday afternoon, the National Weather Service's winter weather advisory remains in effect for much of the region. The storm is expected to regain strength as the day goes on, with another one to three inches of snow possible by the evening.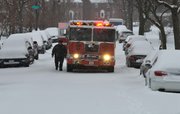 The skies will finally clear Friday morning, but the Valentine's Day reprieve will be brief. Snow showers are expected late evening into early Saturday morning, which could potentially bring yet another one to two inches of snow.
The massive storm system effectively brought the city to a standstill Thursday. The federal government was closed, as well as public schools in D.C., Prince George's County, and Northern Virginia.
D.C. Mayor Vincent Gray declared a snow emergency ahead of the storm. Virginia Gov. Terry McAuliffe and Maryland Gov. Martin O'Malley also declared states of emergency.
The storm pounded the South and Mid-Atlantic as it moved its way north. At least 17 deaths have been attributed to the storm, including a Virginia Department of Transportation worker who was struck by a salt truck.
More than 6,000 flights were cancelled due to the storm on Thursday, and roughly 750,000 homes and businesses lost power in Georgia, South Carolina, North Carolina and Alabama, the Associated Press reported.