Wall Soars Above Competition, Wins Slam Dunk Championship
WI Web Staff | 2/16/2014, 1 a.m.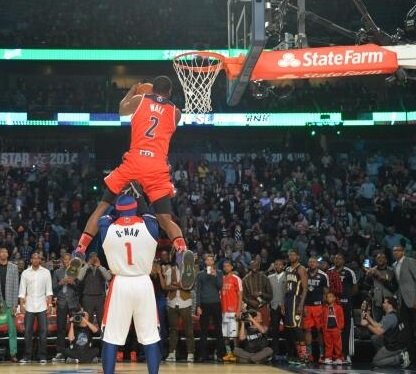 Washington Wizards guard John Wall started off his All-Star Weekend with a bang Saturday night, leapfrogging his mascot in a rousing double-pump reverse dunk to take top honors in the league's revamped slam dunk contest.
Wall was part of the triumvirate of Eastern Conference dunkers who swept through the contest's new format, which pits three contestants from each conference against each other in head-to-head battles. Wall and Indiana Pacers forward Paul George joined last year's slam dunk champion, Toronto Raptors swingman Terrence Ross, to defeat Sacramento Kings guard Ben McLemore, Golden State Warriors forward Harrison Barnes and Portland Trailblazers guard Damian Lillard, respectively.
Wall stole the show when he had the Wizards' G-Man mascot hold the ball above its head — then jumped over the mascot, grabbed the ball and pumped it between his legs before sending down a two-handed reverse dunk.
Wall, who also will make his first appearance in the All-Star Game on Sunday, was named the top dunker of the night, an honor partly decided by the fans via social media.
The East also won the contest's other new wrinkle, a freestyle portion during which the conference's three representatives attempted to complete as many dunks as possible in 90 seconds. Wall was also part of the most memorable slam during that portion, a collaborative effort between the three which ended with George dunking after a pass from Wall off the shot clock above the backboard.
Wall's win capped a solid showing by Washington's All-Star Weekend representatives on Saturday. His backcourt mate Bradley Beal narrowly missed winning the three-point contest after forcing a championship tie-breaker round with eventual winner Marco Belinelli of the San Antonio Spurs.