Gray Announces MLK Library Architects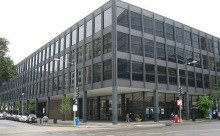 D.C. Mayor Vincent Gray joined members of the D.C. Public Library board of trustees in announcing Tuesday the selection of a District and Dutch architectural team to renovate the historic Martin Luther King Jr. Library in Northwest.
Martinez-Johnson of Northwest and Mecanoo of Delft, the Netherlands, will work on modernizing the facility. The library, which first opened in 1972, has long been in need of repair and additional space for computers and offices.
"Today, the District takes another step towards giving our residents the great central library they deserve in a way that helps improve both the public's library experience and our library's system's bottom line," Gray said. "I would like to thank the library for selecting the best architecture team for the job. I also want to thank all of the people who provided input into the selection process."