Black Men Sing Songs of Praise
Tuskegee Airman Honored during Black History Celebration
2/19/2014, 3 p.m.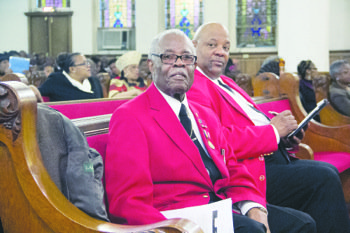 Major L. Anderson recounted vivid memories of President Franklin D. Roosevelt calling all able-bodied men to the military draft hours after the Japanese attacked Pearl Harbor in December 1941.
Upon his 18th birthday, Anderson enlisted in the U.S. Army and started basic training at Godman Army Airfield in Fort Knox, Ky. Three months later, he joined the 44th Bombardment Group and went on missions across Europe with the team of pilots that would be later known as the Tuskegee Airmen.
Anderson, a member of the east coast chapter of Tuskegee Airmen, Inc., a nonprofit organization that honors the accomplishments of the men who served in the Army Air Corps during WWII, recently reflected on his experiences before nearly 100 visitors at Greater New Hope Baptist Church in Northwest.
"I am proud to have served my country during World War II and I am [even prouder] to be a child of God," said Anderson, 88. "If I am to leave you with a legacy, it would be to love God and your neighbor with all your heart and all your soul."
The D.C. Black History Celebration Committee (DC BHCC), a group that provides year-round, city-wide Black History programming, named Anderson a "Man of Honor" during its annual "African American Men Sing Songs of Praise" program on Sunday, Feb. 16. The concert featured 19 black male choirs, soloists, clergy, and poets of various ages who performed songs of worship and recited poetry that celebrated the accomplishments of black pioneers. ABC7's Sam Ford served as master of ceremonies.
"This concert centers around African American singing and highlights the role that black men played in the struggle for liberation," said Bishop Melvin G. Brown, senior minister at Greater New Hope Baptist Church. "We saw God as a key component on earth in our struggle. It's for that reason that black men have to let their presence be known in the church. They have been marginalized and sidelined for too long," said Brown who lives in Silver Spring, Md.
Anderson, sporting a red jacket emblazoned with medals, led Brown, Ford, and nearly 40 black male performers in a processional at the start of the program. The acts belted out songs of praise, provided passionate testimonies, and led guests in call-and-response over the course of three hours.
Eternal Faith, a quartet from Ebenezer United Methodist Church in Southeast, serenaded the crowd with two a capella songs. Carlton Hasty, Sr., a vocalist, relished the opportunity to fellowship with other men.  
"It's not easy for men to come together like this in church," said Hasty, 59. "But we did so through song. I would love to see more men take part in that," said Hasty who lives in Southeast.
Dorie Ladner, a founding member of the Council of Federated Organizations, which includes the NAACP, the Student Nonviolent Coordinating Committee, the Southern Christian Leadership Conference and the Congress of Racial Equality, nodded her head and waved her hands throughout the afternoon event. She said the concert brought back memories of growing up in church and singing in her high school glee club.