Church Chronicles History, Pastor's Struggles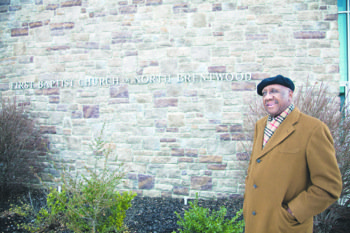 When Rev. Perry Smith walked through the doors of First Baptist Church of North Brentwood in 1958 as pastor, he only planned to lead the church for two years. Instead, he opted to stay and for more than 50 years Smith led one of the oldest black churches in Prince George's County.
Young, handsome, and wearing a beret and sandals, Smith said he waltzed in First Baptist while finishing a Master of Divinity degree from Howard University. At the time, the church only had about 27 active members and sorely needed repair.
"I didn't see myself staying there," said Smith, 80, of Mitchellville. "I felt like there must have been something else out there that God wanted me to do."
Smith's history with the church became the subject of the book "A Time to Build: History of the First Baptist Church, Inc. of North Brentwood Maryland." Released in 2010, the book remains one of the few that records the history of an African-American church. Founded in 1905, First Baptist celebrated its centennial in 2005.
"Too little of African-American church history is documented," said Smith, who is a native of Mound Bayou, Miss.
But the road to chronicling his history with the church proved to be a long one, he said.
When church members selected Smith to lead the congregation, he was only 24 years old. Senior members of the church were suspicious of him, while the younger members were drawn to him. He made about $100 a month as pastor, but immediately set out building the churches' membership by engaging the surrounding community on everything from civil rights, to education, and housing. Smith said he endured 13 arrests, including several in Prince George's County, while working as a freedom fighter during the Civil Rights Movement.
"The racism was all around us … our church was heavily involved in the Civil Rights Movement – I would be ashamed if we were not," he said. "The service that we provided the community was the catalyst for change."
Soon First Baptist's relevance extended beyond the community. Over the years, Smith saw the seats of First Baptist fill with notable activists including Nikki Giovanni and Dick Gregory, among others. At one point, Martin Luther King, Jr. was scheduled to speak at the church.
His efforts to raise awareness in the community began to trickle into the church. First Baptist's membership grew to nearly 2,000 members during Smith's tenure as pastor, which ended in 2010 when he retired. First Baptist's annual budget increased from $2,400 to nearly $2 million during that time, Smith said.
Under his leadership, the church building also expanded. Most recently, a new church was built across the street from the old one in 2005.
Sandra Shannon, an English professor at Howard University and member of First Baptist, co-authored the book with Smith. She said she became intrigued by the history of the church and Smith's mission as its leader.
"It's the idea of chronicling history; it's a part of my history," Shannon said. "It's so important to write and record history – so much of it has been lost … I wanted to capture that history of the church while people are still alive."
"Rev. Smith is an activist. He did a beautiful job blending his spiritualism with his activism," Shannon said. "He never backed down from speaking to power."
And his consistency kept the church relevant in the community, said longtime member Evelyn Hughes.
"He had a hard time but he did it," said Hughes, 88, of Greenbelt who joined the church in 1943. "He just worked hard."
Though Smith stepped down from leading the church four years ago, Hughes said his legacy with First Baptist continues.
"His presence is still there. People love him – he's still a part of us," she said.
For more Prince George's County/Maryland news, follow @JoshuaGarnerDC on Twitter.