Despite Critics, Obama Pushes Forward
Supporters Suggest Blacks are Better Off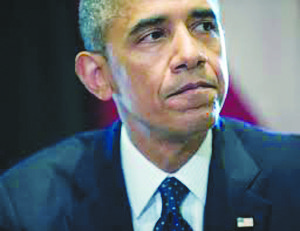 Before the ink from President Barack Obama's signature dried from signing the controversial Farm Bill earlier this month, critics, pundits and others said legislation passed under his watch has negatively affected African-Americans and the poor.
But, Obama and those who support the two-term president, said he's done plenty to help African-Americans and other underserved communities.
"You cannot blame the president for legislation that has gone wrong," said Springfield, Va. resident Felix Contreras. "He has stuck his neck out for minorities, but whenever he tries to do more, to help, Congress, the Senate and everyone else gets in the way," said Contreras, 44, who works as a termite and pest exterminator.
The president's critics argue that several pieces of legislation signed by Obama have only served to harm the black community, including the Farm Bill which cut by $8 billion the Supplemental Nutrition Assistance Program (SNAP), or food stamps.
"This bill is so bad, they literally stripped reform from the title," Steve Ellis, vice president of Taxpayers for Common Sense in Southeast, told the New York Times.
Also, under Obama's watch, several states have drafted legislation which requires welfare recipients to undergo drug testing, which many argue violates their rights.
Pennsylvania requires an asset test where food stamp and Medicaid recipients aren't allowed to possess valuables worth up to $5,500, or $9,000 if a person is disabled or elderly.
In Michigan, legislators recently approved a measure that withholds unemployment compensation from those who fail pre-employment drug tests.
"It's more than just big brother watching, it's the government trying to control every aspect of a person's life and dictate what people can and can't do, and what they can and cannot have," said Justin Rice, a parcel service worker from Northeast.
A Department of Labor study revealed that the black unemployment rate has risen since Obama took office and the former head of the National Association for the Advancement of Colored People, Ben Jealous, said conditions are worse in the African-American community than they were when Obama took office.
Labor statistics revealed that the unemployment rate for blacks is double that of whites, similar to numbers 50 years ago, during the Civil Rights movement.
"The country's back to pretty much where it was when this president started. White people in this country are doing a bit better," said Jealous. "Black people are doing far worse."
However, White House officials noted that Obama has championed a strong black family, and he's encouraged fathers to be active in their children's lives.
The president's Affordable Care Act also serves to end the disparity in health care among African-Americans as it's estimated that more than 8 million blacks will benefit from the law, officials said.
In an email, a White House spokesperson said since Obama's first day in office, he's worked to secure the future prosperity of the African-American community through efforts such as increasing access to health care, creating jobs, revitalizing schools, and the development of targeted job creating investments in underserved communities.
"While the president affirms his agenda in a variety of ways that affect all Americans, his impact on the Black community is still potent although critics claim he has not done enough," D.L. Chandler, a journalist and critic with News One, said.