Farm Bill Gets Mixed Reviews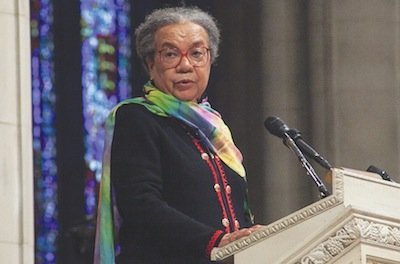 To some African-Americans and others in leadership positions such as Congressional Black Caucus Chair, Rep. Marcia Fudge (D-Ohio), the newly minted Farm Bill that President Barack Obama signed earlier this month represents a compromise in the right direction.
For others, such as Marian Wright Edelman, president of the Children's Defense Fund in Northwest, compromise shouldn't come at the expense of the well-being of already-struggling families.
Prior to the president signing the bill, lawmakers passed the legislation after several years of haggling over farming subsidies and efforts by Republicans to reduce financing for the Supplemental Nutrition Assistance Program (SNAP), or food stamps.
The bill replaces direct crop payments to farmers with an insurance program and it trims $8 billion from food stamps over the next 10 years, much less than the $40 billion cut proposed by Republicans.
"It's a fair and bipartisan bill that meets the needs of the American people while reducing federal spending by $23 billion," said Fudge, 61, who also noted that the changes will be achieved by discontinuing a program in 17 states that automatically boost food stamp benefits for people enrolled in the federal Low Income Home Energy Assistance Program, which aids families with energy costs.
"On balance, I am pleased the 47 million Americans who currently rely on the program will not be subjected to the $40 billion in program cuts that were included in the Nutrition Bill passed by the House last year," she said.
However, Edelman said she isn't happy with the compromise.
She said a recent report released by the Children's Defense Fund, titled "The State of America's Children 2014," shows that more than one in nine children lack access to adequate food, 23 percent higher than before the Great Recession.
Edelman, 74, said with millions of poor children and families still struggling, federal nutrition programs continue to be a critical support to ensure children's daily nutritional needs are met.
Food stamp benefits serve more than 22 million children, or 1 in 4 children in America, and an estimated 850,000 households would see a reduction on average of $90 per month, she said, noting that the cuts come on top of the across-the-board benefit reduction that took effect in November 2013 and that affected all who receive food stamps.
"The cuts to the [food stamp] program in the farm bill are indefensible," Edelman said.
"Our latest report shows that SNAP is the only defense against the wolves of hunger for 1.2 million jobless families. With record numbers of children in poverty, Congress should be launching a war on child poverty and strengthening the safety net for children including SNAP. There should be no hungry people, especially children, in rich America."
Officials at the Children's Defense Fund, a non-profit child advocacy organization that has worked for more than 40 years to ensure a level playing field for the young, said there are hungry children in America who currently suffer through weekends without access to school breakfast and lunch.
They said 89 percent of children who relied on free or reduced-price lunch during the school year did not receive meals through Summer Food Service programs.