Lacrosse Takes off in Prince George's County
Elton Hayes | 2/19/2014, 3 p.m.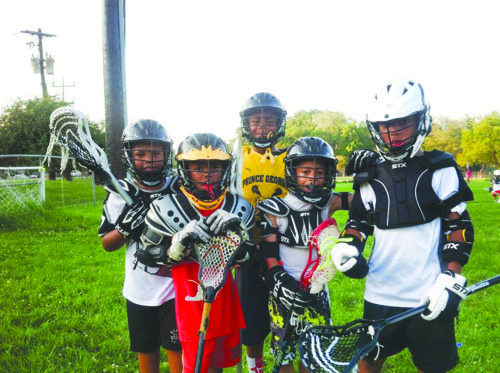 Bruce Lancaster played football at DeMatha Catholic High School in Hyattsville, Md., in the mid-1980s and knows all too well about the brutality that accompanies the sport. He ended his football-playing days after an opponent suffered a life-altering injury that resulted in paralysis during a game his sophomore year.
So two years ago, when his six-year-old son Miles said he wanted to play full-contact football, Lancaster faced a difficult decision.
"I was looking for an alternative to football," Lancaster, 43, a Clinton, Md., resident said. "I played a lot of football when I was younger and I don't think I wanted him to fall in love with the sport. He wanted to play contact football, but it wasn't an option. I wanted to get him involved in a sport where he could still wear a helmet and that had some contact, but one that wasn't predicated on full-body contact."
Miles' alternative to football came in the form of an uncommon sport in Prince George's County: Lacrosse.
Bruce and Miles Lancaster learned of the Prince George's Pride Lacrosse Club from one of Miles' schoolmates at Friends Community School in College Park, Md., and the two decided to attend one of the league's events. It didn't take much to sell the father on the sport. Miles is set to start his second season with the league, and his six-and-a-half-year-old brother Cole will start his first next month.
Prince George's Pride formed three years ago thanks to Hyattsville natives Alex Heitkemper and Justin Ross. The league started with 80 players, and has ballooned in size and currently boasts a roster of more than 260 players. The league is based out of College Park, Md., and is comprised of boys and girls ages 6-15. Its 13-game season begins in March, and ends with a postseason tournament.
Typically viewed as a sport for affluent, private school children and teens, Prince George's Pride has grown in popularity in Prince George's County and there's now a waitlist for some of the league's teams.
Part of lacrosse's allure is that it offers a safe, competitive alternative to football for the numerous parents like Bruce Lancaster who have grown increasingly leery as more studies show that the head trauma inflicted by hits in football have lasting, negative health implications.
Cameron Brock played football at Bishop McNamara High School in Forestville, Md. Brock suffered an ankle injury his sophomore year that required surgery and rehabilitation. After chatting with one of the school's personal trainers about lacrosse during a rehabilitation session, Brock decided to give the new sport a try. He now plays goalie on Howard University's lacrosse team, and coaches for Prince George's Pride.
"Urban lacrosse is something that is a passion of mine," Brock, 24, said. "Sure, the kids who play could go on to win national championships and play professionally, but at the end of the day, they have the chance to receive college scholarships."
Brock, a District resident, said Prince George's Pride affords some children an opportunity they otherwise would not have if not for the league.