A Love Supreme: Celebrating African-American Love with Dignity & Pride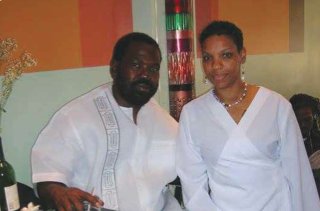 They took the bold step to get married. Here are their stories.
Names: Diallo Sumbry, 38 and Maisha Hyman, 41
Years Married: 14 years, since May 3, 1997
Number of Children: 2 (ages 16 and 12)
How and where did you meet: Maisha: We met at Freedom Plaza. Diallo was 14 or 15.
Diallo: "I was younger she was in college. My mom's house was where the community could come. When there was an interest, I was 19 or 20."
Maisha: "I was like flirting with him. I was saying 'Look at Diallo growing up.' His mom was pushing me and (a mutual friend) to be a couple but that wasn't happening. It was more a brother/sister thing. When he was 19, it became a mutual thing."
Was there an instant attraction?
Maisha: "Hell no!!
How did I know he was the one?
Maisha: "When he came to get me in a blizzard."
Diallo: I'm going to say about six to nine months after we were officially dating. She had cooked a couple of meals and we had talked. I had some basic requirements and she filled those. We came from similar backgrounds, African-centered schools and homes. We also had similar ideas about parenting, the life we wanted for ourselves and families. Everything just kind of plugged in."
What is your partner's most endearing trait?
Diallo: Maisha is extremely intelligent. I never wanted to be with a loud, raunchy woman. She can cook, her family was a solid family. She got along really well with my grandmother and my aunt. She's a very caring person. Initially, as I grew up, my mom wasn't married so it wasn't a goal of mine. Yet, I was confident I'd have children. I thought I was going to marry Nia Long but that didn't happen. Maisha is an ideal wife and mother. When you find a good woman, keep her."
Maisha: Generally, I think it's his ability to connect with people, with anyone on a level where you feel his honesty. We really have a good time together doing 'ignorant stuff' — making jokes, having fun, hanging out. Poking fun at what you enjoy the most. Not taking everything so seriously. Personally, his most endearing trait is his love for his family. The way he takes care of his siblings and children is quite endearing. And when he's being sweet to me.
What has been the biggest challenge?
Maisha: It has been creating our own relationship that's not based on what someone, something, some book said marriage should be. It's looking at ourselves and building a relationship without disappointing each other, carving out a relation based on our needs."
Diallo: I would also say a challenge has been just growing together and being able to communicate our growth to one another. For us particularly, we had ideas. Maisha was pregnant with Kweku and we were determined to go at the world. We were young, growing and coming into our own as we've grown. We've had common things we've enjoyed. You have to be willing to take risks to communicate. You can't be afraid to disappoint.