When Marriage Fails and Love Prevails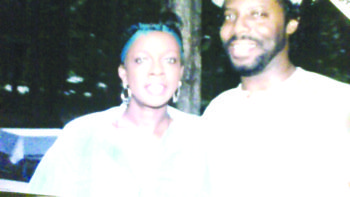 Denard and I have been divorced since 1997.
Yet, we've always remained close — and from time to time, I think, very much in love. That may be a function of the fact that we were really good friends before deciding to tie the knot.
We met when both of us were in our last year of high school. He lived in D.C. and I lived in Richmond, Va. I was best friends with one of his cousins, who introduced us when his family drove down for a Sunday visit.
It was awkward at first because we didn't have much in common, except that we were both the oldest of our siblings, both about to graduate high school. And while he was preparing to attend American University at home, I was headed to Virginia State University in Petersburg.
Nevertheless, we fell hard for each other — couldn't keep away from each other, and I can't count the number of times he'd speed on the weekends from D.C. to Richmond so we could be together. He also knew the campus of Virginia State like the back of his hand.
Two years later on Christmas day, he surprised me with an engagement ring.
The next year we got married, set up house in D.C. and welcomed the arrival of our only child, Markeith — a successful college graduate — of whom we are so very proud.
But due to curves life can sometimes throw, Denard and I divorced after 23 years of marriage.
We lived together three more years before I decided I wanted to live on my own.
Well, let me just say that while we really thought that the departure would wipe the slate clean, it's not worked out that way.
While neither of us remarried, we remain best friends.
We see a lot of each other and we talk often on the phone. We have dates with each other, as well as family gatherings and celebrations with our son and grandson. Denard checks to make sure my car is in good running shape, and I make his favorite dinners. He reminds me to keep my doctor's appointments and I caution him about working so hard.
We remember each other's birthdays and exchange Mother's Day and Father's Day greetings. We give gifts on Christmas — and recently, my heart melted when Denard surprised me during one of our phone chats by reading sentiments I'd expressed to him a few years ago in a Valentine's Day card.
The card, in part, reads: "I remember the way we'd simultaneously smile at each other when you picked me up from work, how you always remembered to buy my favorite perfume; how we'd engage in small talk about our day — with me lying against your chest tweezing ingrown hairs on your face, and how you'd have me laughing so hard from your hilarious hambone impressions . . ."
I'm smile, even now as I recall other good times we shared, and realize that even though the marriage failed, the love, caring and respect never did.
Will we ever get married again?

Well, we certainly talk about it more now than we did a few years ago.