World Bank Critics Seek Outside Help
Argue That the Bank Cannot Police Itself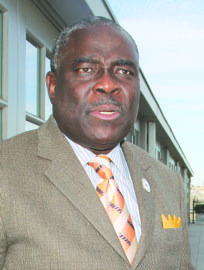 The World Bank is one of the heavy hitters in the District of Columbia. Each year, it provides billions in loans to help governments combat poverty. More than 17,000 people from 170 countries work at the Bank, making it the second largest employer in the city.
It is an instrument of foreign policy used by the United States to reward friends and punish enemies, and for much of the institution's existence, it has operated as an entity unto itself. But over the past three decades, this venerable institution has been roiled by charges from current and former employees about the deep-seated racial bias and discrimination at the Bank.
The Rev. Lennox Abrigo met with former Bank employee Yonas Biru, as well as Bank staff over the last couple of weeks and said he's stunned by what they've shared.
"I was absolutely surprised and shocked to find this out," said Abrigo, president of the Washington, D.C. chapter of the National Action Network. "(But) this is America. Racism is part of the American fabric."
Abrigo, pastor of the Seventh Day New Covenant Ministries in Hyattsville, Md., said he's taken aback by the naked nature of the racism, saying that the Bank has so far been protected by a shroud of secrecy.
"It's systemic, pervasive, protracted and it's admitted by Bank officials from their own studies and those of the Government Accountability Project (GAP)," he said. "It's spread throughout every part of the bank. Yonas Biru is the poster child of the abuses. He reached the top of his job and was denied a promotion for work he was already doing."
Abrigo likened Bank activities to the controversial Stand Your Ground law in the state of Florida.
"This is systematic racism. The legislatures of several states have implemented this law. We've seen this effect. Juries are paralyzed by legislative chicanery," he said. "It has had a specific effort. With it being in 32 states, it's systemic."
"With voting rights, for example, I'm not surprised that white people don't want to give up power. I'm a pastor and would not willingly give up power to a younger pastor but I would not murder him trying to remain on top. They say Stand Your Ground is democratic and the rule of law. It's illegal and we have to find a legitimate way to fight it."
Abigo said he'll use tools at his disposal to expose Bank activities. He's reaching out to members of Congress, including the Congressional Black Caucus (CBC), the White House and the executive branch, and mobilizing members of civil society and other groups to exert pressure on the Bank. Abrigo said he's contacting major media outlets and plans a press conference to be held on the steps of the World Bank at 1818 H Street, N.W.
Former employee Phyllis Muhammad is one of the Bank's most vocal critics.
"The bottom line is that the World Bank does not see Blacks as equal and any manager can do whatever he/she sees fit to 'put them in their place,'" she said.