World Bank Critics Seek Outside Help
Argue That the Bank Cannot Police Itself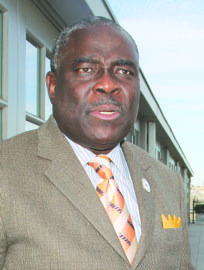 Muhammad, a Harvard-trained African-American lawyer and a former staff relations officer, said in the 12 years she worked at the Bank, she counseled a number of black staffers who had been run through the gauntlet of racism and discrimination.
"Generally speaking, there's retaliation but I knew I was working for a higher calling," she said. "My personal work ethic was to go above the call of duty. I've seen people suffer, lose their jobs and have their reputations damaged."
Muhammad cited the case of Vernetta Hitch, an employee who worked as a temp for 20 years.
"She never got a regular position. When she applied for a position, they came up with a qualification that disqualified her," said Muhammad. "She said she was being discriminated against by age and race. In a letter they said they needed a quick study who could go the distance. So they hired an Indian man with the rationale that it was an affirmative action hire because there were no males in the office. She left without any pension credits and got a couple of months' salary. That was the end of her career."
Biru, an economist, has fought for the past seven years seeking recompense for retaliation against him because he challenged his bosses for promotion to a job he was already doing. He is also combating his termination and seeks restoration of his original employment record. He is seeking $4 million in damages.
Two Bank spokesmen declined to answer questions about specific cases, but the Bank released a statement.
"We vigorously reject the assertions being made about the working environment at the World Bank Group," the statement said. "As an international institution, the World Bank Group values diversity, and we're proud of the fact that we are one of the most diverse organizations in the world. Almost two-thirds of our workforce – 62 percent – is from developing countries, and 15 percent come from Sub-Saharan Africa and Caribbean countries."
"Some 42 percent of our managers are from developing countries, 11 percent come from Sub-Saharan Africa and the Caribbean, and half of our most senior managers are female. We are continually working to be more representative of the people we serve."
"Like other multinational organizations, the statement continued, "we recognize that there is a broad array of ethnic backgrounds in each of our member countries so we don't track diversity below the national level. That said, we have made efforts to increase diversity among people of color from the U.S. As an international organization committed to improve the lives of the poor, the World Bank Group takes our commitment to diversity and inclusion very seriously. We're committed to a fully diverse and inclusive workplace and continue to aim to improve."
But Bea Edwards said the numbers are misleading.
"They collect ethnic data via passports. So whites from South Africa and Zimbabwe are counted as African," said Edwards, GAP's executive director. "That's not the way to collect data. When you're asking, you have to say 'black American.' By their reckoning, Teresa Heinz Kerry (a naturalized American born in Mozambique, and wife of U.S. Secretary of State John Kerry) is considered African American."