Local Management Firm Tabbed for Key Role in National Harbor Casino
2/20/2014, 11 p.m.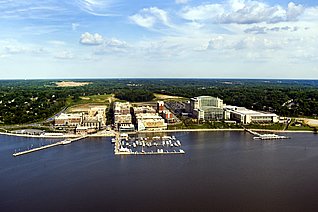 MGM National Harbor announced Thursday that it has named nationally-regarded architectural, engineering and construction management firm McKissack & McKissack as project manager for the development of the company's planned destination resort in Prince George's County, Md.
The firm will be responsible for managing the day-to-day details and logistics involved in the development of a project as ambitious as MGM National Harbor. Serving in this role, the McKissack & McKissack team will provide construction management support, manage project schedule development, manage cost model and budget, and provide diversity management support during planning and construction of the $925 million resort.
McKissack & McKissack, a minority- and woman-owned business, is certified as a Minority Business Enterprise with the Prince George's County Supplier Diversity program.
"McKissack & McKissack represents the best of the best of their industry and we are proud to add them to our team," said Lorenzo Creighton, MGM National Harbor president and chief operating officer. "Their experience managing some of the metropolitan area's most impressive undertakings made them the clear choice to oversee our multidimensional National Harbor construction and development."
The Martin Luther King Jr. Memorial, Nationals Park, and the National Museum of African American History and Culture are among the work McKissack & McKissack has been a part of in the capital region. The firm also brings significant experience in developing green buildings, which will be critical in MGM's commitment to build to LEED Gold standards at National Harbor.
McKissack & McKissack is ranked by Engineering News-Record as one of the top 50 program management and top 100 construction management for-fee firms in the United States. Washington Business Journal ranks it as one of the top 25 environmental consultants in the Washington Metropolitan area. McKissack & McKissack currently manages $15 billion in construction while employing 160 professionals across the country, including D.C.
MGM National Harbor is a destination gaming resort project located in National Harbor, the waterfront development on the shores of the Potomac River in Prince George's County. In December, MGM was awarded a license to operate Maryland's sixth casino. The $925 million resort will include a 300-room luxury hotel, a casino featuring 3,600 slots and 140 table games, a 1,200-seat theater, high-end branded retail, 35,000 square feet of meeting space and restaurants from renowned local and national chefs.