COMMENTARY: Saying Goodbye to Derek Jeter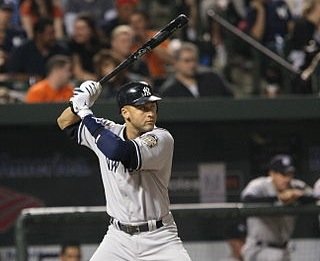 The New York Yankees are, without question, one of the most polarizing sports franchises ever. Love them or hate them, you definitely have an opinion of them, one way or the other.
Unlike the organization itself, Derek Jeter, the lone remaining link to the great Yankee teams that won three consecutive titles (1998-2000), seems to be liked by everyone. Enjoy him while you can, though — it's all coming to end soon.
Jeter recently announced on his Facebook page that the 2014 season will be his last as a Major League Baseball player, opted to declare his intentions prior to spring training so that the team wouldn't be distracted by his status. Though it was no secret that the Yankee captain was closing in on the end of a remarkable career as he approaches age 40 — particularly after injuries limited him to 17 games last season — the announcement surprised some people.
As he enters his 20th and final season with the Bronx Bombers, all Jeter has done is become the best shortstop in the team's 100-year history and among the best Yankees ever. For those who may not have a full appreciation for Jeter's accomplishments, let me remind you of a few things that he has done: .312 career batting average, 256 homers 1,261 RBI, 1996 AL Rookie of the Year, 13 All-Star Game appearances, five Gold Gloves and — most importantly — five World Series rings.
Though he never led the league in many offensive categories, only nine players in Major League Baseball history have more hits than Jeter's 3,316.
But though he put up great numbers, Jeter's career is defined by much more than statistics. When I think of No. 2, I'm reminded of his home run for his 3,000th hit, his diving catch as he leaped into the stands, his backhand flip during the postseason and his 2008 speech to close the old Yankee Stadium.
But the organization's storied history is full of baseball legends. Babe Ruth, Mickey Mantle, Joe DiMaggio, even the infamous Alex Rodriguez — they all wore Yankee pinstripes, with career numbers much better than Jeter's. So why is Jeter one of the most beloved in franchise history?
Part of what separates him from other Yankee greats is his off-field persona. Compared to the aforementioned Yankees and their occasionally less-than-pristine reputations away from the ballpark, Jeter has a solid brand and has avoided major controversies — no small task in today's climate.
So what will he do following the 2014 season? At this point, it's a little too early to tell. A career in sports broadcasting — TV or radio — would make perfect sense. Jeter is articulate, presents well and knows baseball. One thing's for certain, though: Jeter is a lock for the Hall of Fame in 2020, his first year of eligibility. You can go ahead and book your trip to Cooperstown for July 26, 2020, right now.
In fact, not only will Jeter be a first-ballot selection, he may be what Jackie Robinson, Willie Mays, Walter Johnson, Ty Cobb, Ted Williams, Babe Ruth, Hank Aaron and Bob Feller were not — a unanimous choice.
Whether you love or hate the Yankees, you have to admire and respect the career of Derek Jeter. I tip my hat to him and say, job well done!