Billie Holiday Musical Gives D.C. Students Glimpse Into Life of 'Lady Day'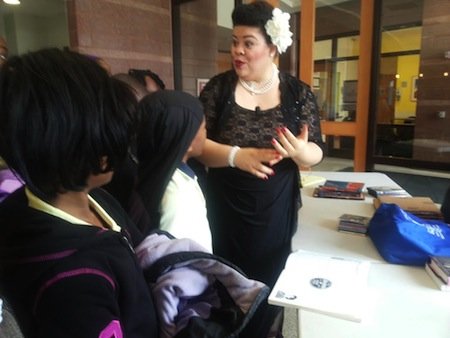 In commemoration of Black History Month, some D.C. elementary school students got a peek into the inspirational and often troubled life of the late jazz chanteuse Billie Holiday when they gathered Thursday at THEARC in Southeast for a toned-down version of the popular musical drama, "Lady Day at Emerson's Bar & Grill," starring Thomasina Petrus.
"We created this show for children because we want them to know about Ms. Holiday and her influence as a woman who was very involved in uplifting of the black race through song — and particularly through "Strange Fruit," which she started singing in 1939," said Petrus, 43. "That was 20 years before the civil rights movement started, so she risked her life and the life of her musicians when she sang that song in places that might not be as welcoming as she thought."
With the stage's backlights set just right and the spotlight on Petrus, a group of fifth-graders from W.B. Patterson Elementary School in Southeast sat attentively in the dimmed auditorium as Holiday's story of personal struggles and racial injustices came to life.
Showing the students what she could do all by herself in front of a microphone, Petrus who wore Holiday's trademark flower in her hair and donned heavy makeup and attire of the day, was almost a spitting image of the tragic icon. Her pitch-perfect crinkly voice cracked with pain as she imitated Holiday's distinct lyrical styling and scats, which also brought to mind other legendary African-American singers such as Betsy Smith and Louis Armstrong.
"Holiday died at age 44, and a lot of her story is centered on her drug abuse," said Petrus, an accomplished actress and singer from Minnesota. "However, there was so much more to her than that. I tell the children that although everyone makes mistakes and have to suffer the consequences, people are more than the worst or best thing that ever happened to them."

The raspy, jazz-influenced vocals of Holiday, who was also a poet and songwriter, have had a lasting impact on how the American songbook is interpreted.
Asked what stuck out most about the 45-minute production, many of the students liked the way Holiday stood up for herself and expressed her feelings.
"She lived in a racist [society] and her grandmother was a slave," said Tyjae Lloyd, 10, "and I was sad about that."
Belonte Cunningham, 11, said that Holiday was a perfect singer who was mistreated.
"Sometimes she only had to sing one note when she was in an all-white band, and at other times because of her race, she had to sit alone in a closet while they performed," Belonte said. "If that kind of thing happened today, I would be very angry."
Their teacher, Jennifer Lee, said that with Black History Month coming to a close, she was glad her students could see the musical.
"[Presentations] like this are a necessity because our history must live on in the hearts and souls of our children who come after the struggle," she said. "Because they, unlike past generations, have no hands-on knowledge of what took place, these kinds of productions provide them an opportunity to relate to the struggle and carry on the torch for justice and equality."