INTERSECTIONS 2014 Marks 5th Anniversary at Atlas Performing Arts Center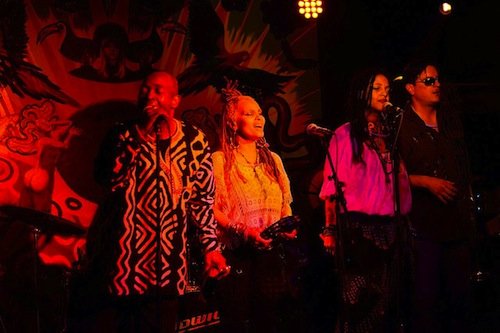 Face it. It has been one rough, relentless winter, and cabin fever is rampant. But there is a road out of the house to a place of warmth, artistic diversity and entertainment for everyone.
INTERSECTIONS, the multifaceted, multidisciplinary and always eclectic community festival, kicks off on Friday, Feb. 21 at the Atlas Center for the Performing Arts for three weekends packed with music, dance, poetry, theater and more. Celebrating its fifth anniversary, this year's INTERSECTIONS Festival comes with a new feature: roadmaps to help guide patrons to the places they want to be. Divided into categories – Sound, Movement, Story and Family – the roadmaps designate what type of performances take place within the more than 100 offerings spread out over three weekends concluding on Saturday, March 8th.
At the preview for INTERSECTIONS, Artistic Director Mary Hall Surface, broke down the meaning of entertainment and the thrust of this year's festival.
"To entertain means 'to hold among,'" she told the audience of artists, media and sponsors.
"In this ever more virtual world, we want creative face time with you – to build a community among us while we share the sacred space which is a theatre – to hold you gently and playfully by the hand, to delight and surprise you,  and to occasionally grab you by the lapels to challenge and inspire you," she added.  "We want to hold you in a place of possibility – where all questions can be asked and multiple answers pondered."
Throughout the five years of presenting INTERSECTIONS, Hall Surface admits to some lessons learned, and has incorporated them into this year's festival, which features more collaborative pieces by artists, many who are making a return to the festival.
Festival favorite, hip-hop artist Paige Hernandez returns, this time with an East Asian twist as she collaborates with Indian Kuchipudi dancer ChitraKalyandurg in B-Fly Entertainment's "The Nayika Project." Holly Bass, one of D.C.'s most popular poets/performing artists collaborates with poet Maurice Decaul to present "Lioness," a new choreopoem that brings life to the female military experience followed by an after show discussion, "Meeting Lioness" on March 7th. And there will be more opportunities for the audience and the artists to interact.
"We've discovered that audiences really want the opportunity to interact with the artists and with one another," Hall Surface added. "Just coming to the show – in and out – has not defined the INTERSECTIONS experience. So we've built in more time for people to connect with the artists through before and after the show interactions, as well as creating a "Meet the Artist" spot in our lobby cafe. We've also commissioned short dance pieces, 'The Alcove Project,' that are site specific to the Atlas' Lobby to celebrate our 5th anniversary.  We plan for these initiatives to grow from this launching year of "ArtsEngage" programming into the future."
There are also plenty of performances in the Washington Post Café Concerts in the Atlas' Kogod Lobby – 20 to be exact – which are free and happen before, during and after festival performances that focus on up-and-coming artists – this year featuring local songwriter Wendell Kimbrough, Little Red and the Renegades and Wytold.