UDC Honors Several at Founder's Day Convocation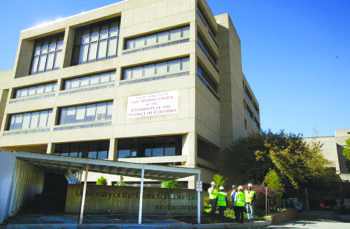 A former president of Miner Normal School for Principals/Miners Teachers College, now known as the University of the District of Columbia, was among the honorees of the university's annual Founder's Day Convocation and Awards program.
Myrtilla Miner, who died in 1864, was recognized Thursday along with April Massey, Marie Racine, Lt. Donald Whiting, Alfred Taylor Jr. and Carrington Smith at this year's program, which had the theme, "Honoring our Legacy, Blazing New Trails."
"Founders' Day is an occasion to acknowledge the rich history of the institution and to recognize members of the university community who, through academic excellence, leadership and community involvement — on campus and off— have provided extraordinary contributions to the mission of the university," the university's interim president James E. Lyons said during the ceremony at the Northwest campus.
The Award for Exceptional Service to Society, which was posthumously bestowed upon Miner, recognizes a person such as the university's president who has demonstrated exceptional lifetime services to D.C. residents and the nation. Accepting the award on Miner's behalf was Charlotte Payne Wright, treasurer of the Thomas Minor Society.
Massey, who received the Marjorie Holloman Parker Distinguished Educator's Award, was recognized for her outstanding contributions as an educator at the university. The award is named in honor of the late Holloman, a professor and District lawmaker who was a former chair of the university's board of trustees.
Racine received the Paul Phillips Cooke Lifetime Achievement Award, which honors a faculty or staff member who has consistently demonstrated exceptional loyalty and extraordinary commitment regarding the advancement of the university and its goals and objectives. Whiting was honored with the Cleveland L. Dennard Distinguished Service Award for his long-term commitment and outstanding service.
Taylor was given the Ronald H. Brown Distinguished Leadership Award for his outstanding leadership in his profession and contributions that have been for the betterment of the District and its residents. The award is named for the late former U.S. Secretary of Commerce, who was also a chair of the university's board of trustees.
Smith received the Distinguished Alumni award for his efforts increasing membership participation, enhancing the image of the association, showing professional ethics of the highest caliber and active involvement in the community.