D.C. Mayoral Candidates Make Cases at Returning Citizens' Forum
James Wright | 2/23/2014, 2:48 p.m. | Updated on 2/26/2014, 3 p.m.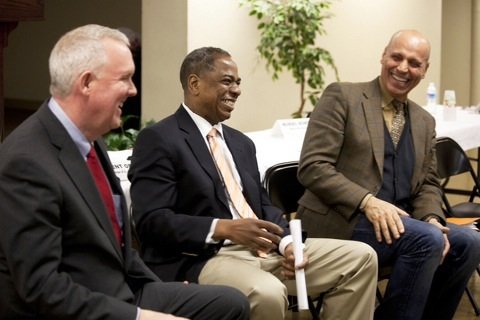 While there are 60,000 returning citizens in the District who have pressing concerns and are politically motivated, only three of the eight District mayoral candidates showed up at a recent candidates' forum to hear and address their concerns.
D.C. Council members Tommy Wells (D-Ward 6) and Vincent Orange (D-At Large) joined District entrepreneur Andy Shallal as the Democratic Party mayoral candidates who participated in the Returning Citizens United forum that took place Feb. 21 at the Greater Mt. Calvary Holy Church in Northeast. Naaman Williams, a returning citizen mentored by well-known Southeast activist Yango Sawyer, expressed interest in the candidates' forum.
"Hopefully, they will say something beneficial to those of us who are in the streets," said Williams, 19. "Those of us who are returning citizens want to have better outcomes in our lives and I hope they talk about that."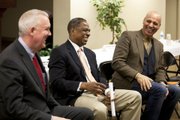 The District's returning citizens population is 10 percent of the city overall. These residents often have trouble finding employment and housing due to their criminal backgrounds.
Unlike Virginia and some Southern and border states, returning citizens in the District can vote in local and national elections. District law allows returning citizens who have completed their sentences and, in most cases, those on parole or probation, to cast a ballot.
Denise Rolark Barnes, the publisher of the Washington Informer Newspaper, served as the moderator. Barnes said that D.C. Mayor Vincent Gray (D) wanted to attend the event but had another commitment and D.C. Council member Jack Evans (D-Ward 2) told event organizers that he would attend the forum if possible.
D.C. Council member Muriel Bowser (D-Ward 4) didn't respond to an invitation to participate. Former State Department official Reta Jo Lewis could not attend due to a death in her family.
It's unclear as to why candidate Carlos Allen did not participate.
Wells, 56, talked about his years as a social worker and his advocacy of decriminalizing marijuana.
"We know that 90 percent of the people in this city who are locked up for possession of marijuana are African American," he said. "Yet, we have six universities in this city and you can't tell me that African Americans are the only ones smoking marijuana."
Wells said that he remembers the 1980s when Washington had a reputation as the murder capital of the United States and crack cocaine had reached epidemic proportions in some District neighborhoods. The streets had become "mean" and "difficult," he said.
"We had a federal government who, instead of helping people, was trying to find ways to lock people up."
Wells also talked about his bill to "ban the box" or take the question of criminal history off of employment applications.
"We have been trying to pass this type of bill for 10 years and we are going to do it this year," he said.
Orange, 56, talked about his youth and his work in securing economic development for Ward 5. He represented the ward from 1999-2007 on the D.C. Council and stressed his success in raising the city's minimum wage and his efforts to force the Gray administration to enforce a living wage for some government workers and contractors.